Obama once again running even with McCain
PRINCETON, NJ -- Voters in North Carolina and Indiana will have their say in the Democratic race as the latest national Gallup Poll Daily tracking update finds Barack Obama (48%) and Hillary Clinton (46%) essentially tied, according to May 3-5 polling.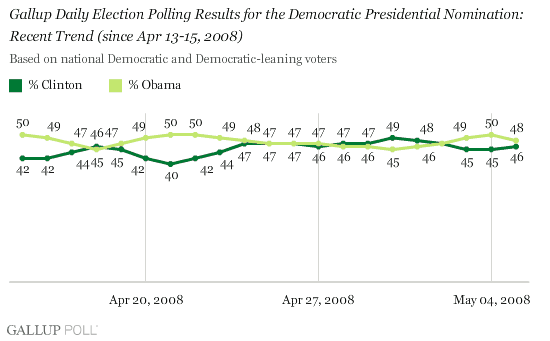 This marks the 13th consecutive day that neither candidate could claim a statistically significant lead. For most of this time, the candidates have been within a percentage point or two of each other, although both Clinton and Obama have briefly enjoyed slightly larger advantages. Since Gallup tracking began in January, each candidate has had a period of sustained leads, with Clinton ahead nationally for most of January and Obama ahead for most of April. (To view the complete trend since Jan. 3, 2008, click here.)
North Carolina and Indiana are the two biggest remaining contests left in terms of available delegates. Pre-election polls show Clinton leading by a small margin in Indiana and Obama leading by somewhat more in North Carolina. If Clinton and Obama split the states, and the results in each are relatively close, then the dynamics of the race will probably remain unchanged. However, if one candidate pulls an upset and sweeps the two states, it could cause rank and file Democrats (as well as party leaders) to reevaluate the race.
In recent days, Clinton had fared better than Obama against John McCain in general election trial heats. Now the two Democratic candidates are more closely matched with the presumptive Republican nominee among registered voters nationwide -- Clinton 46%, McCain 45% and McCain 46%, Obama 45%. For most of March and April, Gallup's first two months of tracking general election preferences, Clinton and Obama generally fared about the same versus McCain. -- Jeff Jones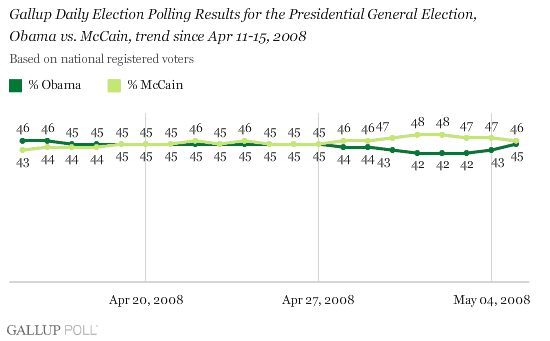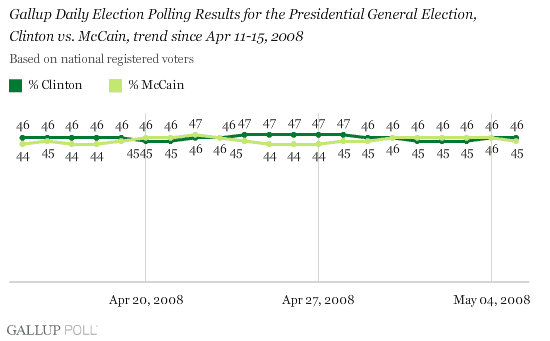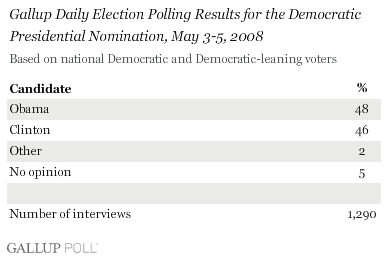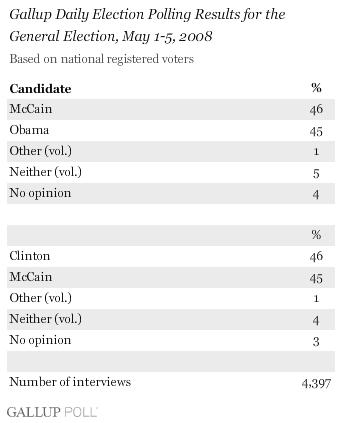 Register to get Gallup Poll Daily tracking reports delivered to you as soon as they are published!
Survey Methods
For the Gallup Poll Daily tracking survey, Gallup is interviewing no fewer than 1,000 U.S. adults nationwide each day during 2008.
The Democratic nomination results are based on combined data from May 3-5, 2008. For results based on this sample of 1,290 Democratic and Democratic-leaning voters, the maximum margin of sampling error is ±3 percentage points.
The general election results are based on combined data from May 1-5, 2008. For results based on this sample of 4,397 registered voters, the maximum margin of sampling error is ±2 percentage points.
In addition to sampling error, question wording and practical difficulties in conducting surveys can introduce error or bias into the findings of public opinion polls.
To provide feedback or suggestions about how to improve Gallup.com, please e-mail feedback@gallup.com.