Nearly two in three reported struggling to afford food in past year
WASHINGTON, D.C. -- Skyrocketing rice prices have hit people hard in many Southeast Asian countries, but Gallup surveys conducted before the recent price surge suggest many Filipinos were especially vulnerable.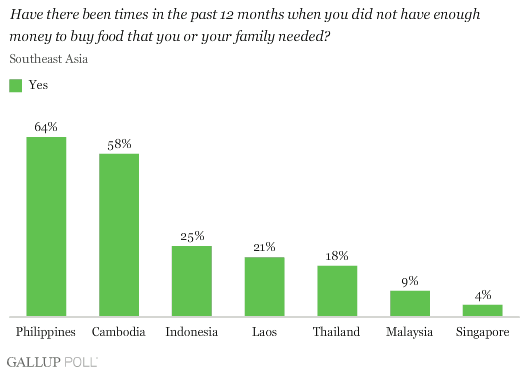 An August 2007 Gallup Poll in the Philippines, the world's largest importer of rice, revealed nearly two-thirds (64%) of the country's citizens said they were unable to afford food at times in the past year, which is the highest percentage reported in the region. Filipinos are essentially tied with Cambodians for the highest percentage of respondents saying their families went hungry during the same period.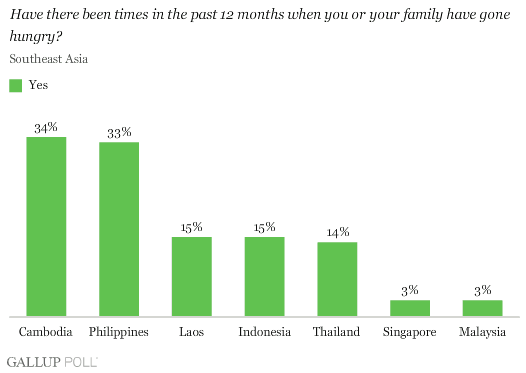 Both figures are up slightly from March 2006, when 59% of Filipinos told Gallup there were times when they didn't have enough money to buy food, and 28% said they or their families had gone hungry.
Consistently high percentages on both measures reflect rising inflation, nagging poverty, and income inequality that is among the highest in Southeast Asia. Despite robust economic growth over the past several years, more than 40% of the population still lives on less than $2 a day, and a third of Filipinos' incomes fall below the country's poverty threshold. According to the Filipino National Statistics Office, in 2006 family incomes among the country's richest 10% accounted for nearly 40% of total family income and were 19 times higher than incomes among the poorest 10%.
An increasing population (the most recent census reports more than 2% annual population growth) is not helping the situation, especially in the poorer areas. The average household size in the southern region of Mindanao, particularly in the Autonomous Region in Muslim Mindanao, is larger than that in other areas of the country, which is also contributing to keeping those households below the poverty line.
Gallup's data indicate that Filipinos in areas where poverty and income inequality are most severe and widespread -- rural areas and the Mindanao region -- were more likely to report they were unable to afford food. Seventy percent of rural residents said they didn't have enough money for food at times, compared with 59% of urban residents. In Mindanao, 73% of residents said they couldn't afford food at times, compared with roughly 6 in 10 in the National Capital Region (58%), Luzon (60%), and Visayas (63%). Similar differences are also evident in percentages of Filipinos who reported going hungry.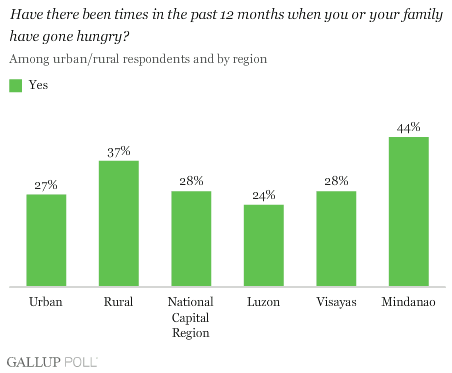 Although anticipated record rice harvests are expected to ease prices, the U.N. Food and Agriculture Organization said on May 22 that it expects prices to remain high for the next several years. Poor Filipinos, who spend nearly 60% of their incomes on food (in Mindanao, this is estimated to be 70%), were particularly vulnerable going into the current crisis and likely will remain so for some time. A 10% increase in food prices could create 2.3 million newly poor Filipinos, according to the Asian Development Bank.
Bottom Line
With 59% of Filipinos saying they are personally concerned about being able to afford even basic necessities, such as adequate food and decent shelter, the success of the government's solutions in the short term and its long-term strategies will be key to stability and continued economic growth.
In the short term, the Filipino government is subsidizing food for its poor, which it may pay for with oil and petroleum windfalls this year, and contracting to purchase rice from other countries to address supply shortages. As a possible longer term solution, the government is also reportedly encouraging private companies to grow rice in "unused" areas in the southern Philippines to help reduce the country's dependency on imports and attain self-sufficiency.
Survey Methods
Results are based on face-to-face interviews with 1,000 adults in the Philippines, aged 15 and older, conducted in August 2007. For results based on the total sample of national adults, one can say with 95% confidence that the maximum margin of sampling error is ±3.6 percentage points. In addition to sampling error, question wording and practical difficulties in conducting surveys can introduce error or bias into the findings of public opinion polls.