Just 26% of Austrians expressed confidence, down sharply from 2006
WASHINGTON, D.C. -- Few Austrians expressed confidence in their national government in the months prior to its July collapse and the subsequent call for early elections this September. A Gallup Poll conducted in Austria earlier this year found only 26% of Austrians confident in their national government, down from 50% two years before.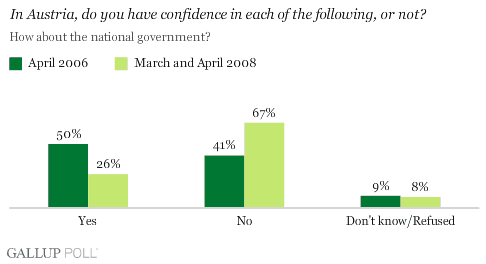 When asked specifically about confidence in Chancellor Alfred Gusenbauer, the leader of Austria's government before its collapse, only 24% say they approved of his job performance. Gusenbauer has announced he will not seek another term in the coming elections.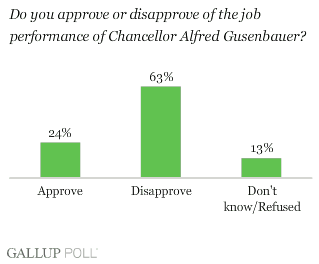 Differences over European Union (EU) policy was one of the issues at the heart of the coalition government's collapse. Amid growing discontent with the EU among Austrians, Gusenbauer and President of the Social Democrat Party, Werner Faymann, promised referendums for each new EU treaty and for any amendments to the Lisbon Treaty.
Austrians express less confidence in the leadership of the EU now than in 2006. An official member of the EU since 1995, about a third of respondents (36%) say they approve of the job performance of EU's leadership, down from 45% just two years before. Despite this, Austrians' approval of EU leadership is now significantly higher than approval of their own country's leadership. With elections on the horizon, Austria's new leadership will have many challenges to overcome.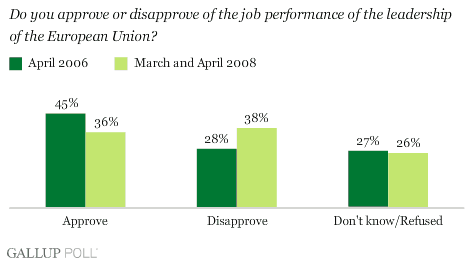 Survey Methods
Results are based on telephone interviews with 1,050 adults in March and April 2008, aged 15 and older, in Austria. For results based on the total sample of national adults, one can say with 95% confidence that the maximum margin of sampling error is ±3 percentage points. In addition to sampling error, question wording and practical difficulties in conducting surveys can introduce error or bias into the findings of public opinion polls.