With the U.S. economy and the war in Iraq overshadowing all other election issues, women's rights may not be a top issue for many Americans this year. In fact, most Americans are satisfied with the position of women in the United States today.
As part of its annual Mood of the Nation poll*, Gallup asks Americans for their level of satisfaction with 21 different aspects of American life. According to the most recent results from January 2004, 68% of Americans are satisfied with "the position of women in the nation" (17% say they are "very satisfied," while 51% are "somewhat satisfied"). Americans' satisfaction with the position of women ranks third on the list of 21 items, topped only by "the nation's military strength and preparedness" (81% satisfied) and "the nation's security from terrorism" (70% satisfied).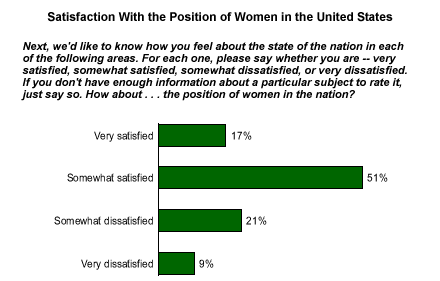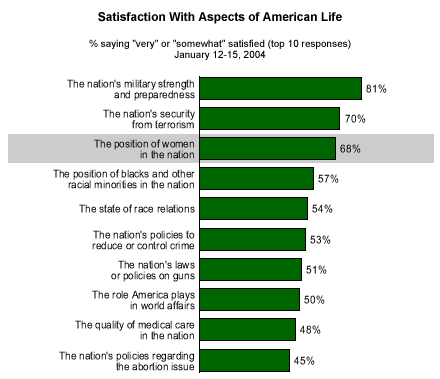 However, overall satisfaction with the position of women in the United States has declined somewhat from last year, after increasing gradually in the two years prior. In January 2001, satisfaction with the position of women stood at 67%, close to where it is today. It climbed to 71% in January 2002 and 75% by January 2003, before falling to its current level of 68%. The level of satisfaction in 2004 seems to be more in line with the numbers from 2001 and 2002. It is unclear what may have prompted the increase in satisfaction with the position of women in 2003, but the 2004 numbers suggest that this increase was temporary.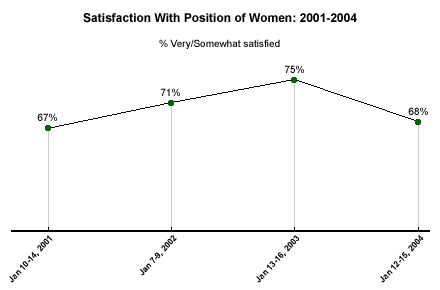 Satisfaction with the position of women decreased among most demographic groups between 2003 and 2004. One of the largest drops occurred among Democrats, whose level of satisfaction went from 71% in 2003 to 61% in 2004. Comparatively, satisfaction among Republicans held steady (80% in 2003 and 79% in 2004). Satisfaction among independents dropped only slightly, from 73% to 68%.
Interestingly, satisfaction with the position of women does not vary significantly by gender. In the January 2004 survey, 70% of men said they were satisfied, as did 67% of women. This gender gap has actually narrowed slightly since the 2003 survey, when 78% of men and 72% of women were satisfied. Satisfaction among older women (aged 50 and older), which had been rising steadily since 2001 (see "Older Women Boost Rise in Satisfaction" in Related Items), dropped from 73% in 2003 to 66% in 2004.
Dissatisfaction
Although women have made great strides in improving their positions in the United States in the last century, a number of Americans are still not satisfied. Thirty percent of Americans said they are dissatisfied with the position of women in the United States, with 21% somewhat dissatisfied and 9% very dissatisfied.
*Results are based on telephone interviews with 1,004 national adults, aged 18 and older, conducted Jan. 12-15, 2004. For results based on the total sample of national adults, one can say with 95% confidence that the margin of sampling error is ±3 percentage points.