The war in Iraq and the fragile economic recovery are Americans' biggest worries in the here and now. But when thinking about the long-term future, what are the issues that concern them most? In a recent poll*, Gallup asked respondents to look 25 years into the future and imagine what they believe will be the most important problem facing the nation at that time.
The Top Ten
The question -- "Looking ahead, what do you think will be the most important problem facing our nation 25 years from now?" -- was posed in an open-ended format, allowing respondents to volunteer any answer they wished. Eleven issues were mentioned by 4% of respondents or more; most are of a domestic, rather than international, nature.
Twelve percent of Americans think that the economy in general will be the most important problem in 25 years, while another 7% mention the specific economic concern of unemployment. Eleven percent name Social Security and/or Medicare, perhaps because of concerns about the financial prospects of Social Security as baby boomers begin to retire. Eight percent of respondents mention the environment and 6% say healthcare.
Ascending Apprehensions: Social Security/Medicare
Gallup has been asking this question on an annual basis for the past four years, and it is interesting to note how Americans' long-term predictions shift according to current circumstances. With the current economic slowdown, for example, the percentage saying the economy or joblessness will be paramount in a quarter-century has been on the rise, from just 5% in 2000 to 19% this year. The percentage predicting Social Security and/or Medicare will represent the top problem has also risen, from 4% in 2000 to 11% in 2004. On the other hand, concern about environmental issues for the long run has dropped, from 14% in 2000 to 8% this year.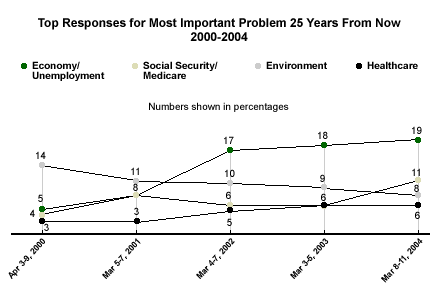 *Results are based on telephone interviews with 1,005 national adults, aged 18 and older, conducted March 8-11, 2004. For results based on the total sample of national adults, one can say with 95% confidence that the margin of sampling error is ±3 percentage points.