Six in 10 Republicans strongly approve; 6 in 10 Democrats strongly disapprove
GALLUP NEWS SERVICE
PRINCETON, NJ -- An analysis of Gallup Poll data reveals extreme and unprecedented levels of polarization in George W. Bush's job approval ratings. Currently, Democrats and Republicans evaluate the president very differently, with Republicans overwhelmingly positive and Democrats decidedly negative. Views among both groups are quite strong, which means they are probably unlikely to change much between now and the election. Never before has Gallup data shown such a high proportion of partisans with such strongly opposing views of a president.
The Partisan Gap in Approval Ratings
In the most recent Gallup Poll, conducted May 21-23, 47% of Americans approve and 49% disapprove of the job Bush is doing as president. That rating is characterized by a wide gulf in the views of Republicans and Democrats -- 89% of Republicans approve of Bush, but just 12% of Democrats do. That 77 percentage-point gap is the highest of Bush's presidency, and the gap between Republicans and Democrats has been 70 points or higher since mid-February.
George W. Bush's Job Approval Ratings
by Party Affiliation
percentage who approve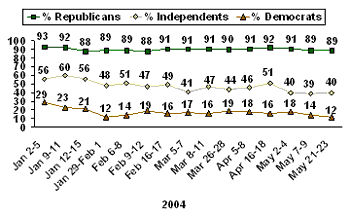 The impressiveness of this gap is underscored by looking at historical approval ratings for other presidents who were similarly gearing up for a re-election bid. Aside from Bush, Bill Clinton had the largest partisan gap in approval ratings at a comparable point in his presidency, but his 60-point gap from May 1996 is nearly 25% smaller than Bush's. Ronald Reagan is the only other president to have a partisan gap in excess of 50 percentage points in May of his re-election year.
Bush's 70+-point gap is not only unprecedented for May of a re-election year, but it is unprecedented for any point in a re-election year. No president, dating back to Harry Truman, has had a partisan gap above 70 points in any Gallup Poll in a re-election year.
Presidential Approval by Party in May of Re-Election Years
President

Survey Date

Overall

Republicans

Independents

Democrats

Republican-
Democrat gap

%

%

%

%

Bush

04 May 21-23

47

89

40

12

+77

Clinton

96 May 9-12

55

25

47

85

-60

Bush

92 May 7-10

40

70

34

23

+47

Reagan

84 May 18-21

54

85

58

32

+53

Carter

80 May 2-5

43

25

36

55

-30

Ford

76 May 20-23

47

64

51

36

+28

Nixon

72 May 26-29

62

89

63

46

+43

Johnson

64 May 6-11

75

61

70

85

-24

Eisenhower

56 May 10-15

69

93

67

51

+42

Truman

48 May 28-Jun 2

39

38

34

42

-4
Bush has been successful in maintaining the support of his Republican base. Throughout his presidency, he has averaged a 93% approval rating among Republicans. In fact, only one other president has exceeded Bush's current 89% support among the party faithful in May of a re-election year. Throughout 1956, Republicans consistently gave Dwight Eisenhower approval ratings in excess of 90%. But Eisenhower's overall approval ratings at that time were in the 70% range, averaging roughly 25 points higher than the current president's job rating. Eisenhower's higher rating was obviously due to much higher support from independents and Democrats than what Bush currently receives. This further underscores the great divide in American politics today, with a president maintaining the support of nearly 9 in 10 loyalists but still having a below-average overall approval rating.
Strength of Job Approval
The party divide is also evident when looking at the strength of partisans' approval ratings of Bush, something Gallup has measured periodically since Lyndon Johnson's presidency. In the May 21-23 Gallup Poll, 28% of Americans overall strongly approve of Bush, 19% moderately approve, 12% moderately disapprove, and 37% strongly disapprove. But 64% of Republicans say they strongly approve of the job Bush is doing as president, while 66% of Democrats strongly disapprove.
George W. Bush's Job Approval Ratings:
Intensity of Approval
by Party Affiliation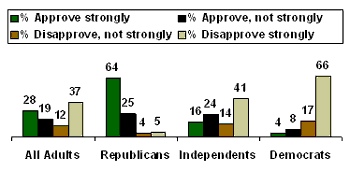 May 21-23, 2004
These percentages are similar to what Gallup found in September 2003 for Bush, but they are hardly typical of what Gallup has observed historically. In fact, looking over the course of Gallup's available data on this question, Bush is the only president who has had more than 6 in 10 of his party's identifiers strongly approving of him at the same time that more than 6 in 10 of the other party's identifiers strongly disapprove of him.
Prior to Bush, there were only a few times when a majority of one party's supporters strongly approved of a president while a majority of the other disapproved. For example, during the last years of Clinton's presidency, Gallup found a majority of Republicans strongly disapproving of him and a majority of Democrats strongly approving of him, but never did both groups simultaneously exceed 6 in 10. The closest the groups came to matching Bush's current pattern was in March 1999 -- shortly after the Senate acquitted Clinton in his impeachment trial -- when 57% of Republicans strongly disapproved and 73% of Democrats strongly approved of Clinton. This was one of four times (out of nine measurements for Clinton) when a majority of Republicans disapproved of him at the same time a majority of Democrats approved.
The only other time Gallup data find a majority of the two parties' supporters holding strong opposing views of the president was in October 1982, when 51% of Republicans strongly approved of Reagan and 54% of Democrats strongly disapproved.
At times in the elder George Bush's presidency, a majority of Republicans strongly approved of his job as president, and at other times a majority of Democrats strongly disapproved, but never at the same time. Evidence of such partisan polarization is clearly more evident among more recent presidents, supporting the notion that politics has become increasingly divisive in the past two decades.
While the polarization in the current president's approval ratings is certainly remarkable, the fact that such a high proportion of either partisan group has such strong opinions is also rare. The only other president to have more than 60% of a partisan group disapproving of him was Richard Nixon in the year of his resignation, when 61% of Democrats strongly disapproved of him. At that time, Nixon had overall job approval ratings below 30%.
Presidents who have more than 60% of a partisan group approving of him are typically benefiting from a significant rally event, including: the elder Bush shortly after the Persian Gulf War (91% of Republicans as well as 65% of Democrats strongly approved); Clinton during the height of the impeachment process (a 79% strong approval rating among Democrats shortly after the Monica Lewinsky story broke); and the current president after the Sept. 11 terrorist attacks (87% of Republicans strongly approved of Bush in early October 2001).
Taken together, the data show that the current political environment is highly unusual. The country experienced a polarization only remotely similar during the Clinton-Lewinsky scandal years.

Generally, people who hold strong views are resistant to changing them, so it is unlikely that anything short of a dramatic rally event will do much to change the current polarized feelings about Bush, and more generally to improve, or to hurt, his immediate political fortunes. One key to the election could be the Bush (and Kerry) campaign(s)' ability to move those with more moderate views from one side of the ledger to the other.
Survey Methods
These results are based on telephone interviews with a randomly selected national sample of 1,002 adults, aged 18 and older, conducted May 21-23, 2004. For results based on this sample, one can say with 95% confidence that the maximum error attributable to sampling and other random effects is ±3 percentage points. In addition to sampling error, question wording and practical difficulties in conducting surveys can introduce error or bias into the findings of public opinion polls.
Republicans

Approve strongly

Approve not strongly

Disapprove not strongly

Disapprove strongly

%

%

%

%

BUSH

04 May 21-23

64

25

4

5

03 Sep 19-21

63

23

7

6

01 Oct 5-6

87

11

1

1

CLINTON

00 Jan 7-10

18

17

13

51

99 Mar 19-21

13

20

9

57

98 Aug 10-12

20

25

10

41

98 Jan 30-Feb 1

18

21

9

49

97 Jan 31-Feb 2

7

20

14

51

96 Jan 12-15

5

10

26

56

95 Jan 16-18

4

15

22

54

94 Jul 15-17

6

9

20

59

94 Jun 3-6

7

9

20

58

BUSH

92 Jan 3-6

48

31

8

9

91 Dec 5-8

45

30

9

11

91 Nov 7-10

52

29

9

6

91 Feb 28-Mar 3

91

7

0

1

89 Nov 9-12

52

30

6

1

REAGAN

86 Jun 9-16

71

17

3

5

85 Nov 11-18

67

20

2

3

83 Sep 16-19

51

28

4

9

83 Jun 24-27

54

26

5

7

83 Jan 28-31

40

27

11

12

82 Oct 15-18

51

26

9

6

82 Mar 12-15

54

29

7

3

81 Nov 13-16

56

25

7

7

CARTER

79 Nov 16-19

11

15

25

36

79 Aug 3-6

3

13

29

44

79 July 13-16

3

15

29

45

79 May 4-7

7

21

25

36

79 Jan 5-8

6

27

28

30

78 Aug 11-14

7

20

31

30

78 Jul 21-24

4

19

36

26

78 May 19-22

5

20

28

37

78 March 31-Apr 3

7

24

29

31

78 Feb 24-27

8

24

28

26

77 Nov 18-21

8

28

26

28

77 Nov 4-7

12

31

23

25

77 Oct 21-24

7

28

29

19

77 Oct 14-17

8

29

21

30

77 Sep 9-12

14

27

22

23

77 May 6-9

15

39

14

15

77 March 18-21

22

38

11

8

FORD

76 Jan 23-26

25

38

16

14

75 Jun 27-30

35

35

9

8

NIXON

74 Aug 2-5

30

20

18

21

74 May 31-Jun 3

32

21

18

18

74 Feb 8-11

32

23

14

17

73 Nov 30-Dec 3

29

26

19

17

73 Nov 2-5

35

21

17

16

73 Sept 7-10

37

26

14

14

73 Aug 17-20

40

23

15

13

73 Aug 3-6

36

22

14

17

73 July 6-9

38

29

12

10

73 June 22-25

48

28

8

9

73 Mar 30-Apr 2

50

35

5

4

71 Aug 27-30

45

26

10

6

71 July 15-18

26

54

8

2

71 Feb 19-22

25

51

10

5

69 Sep 11-16

29

38

7

2

JOHNSON

67 Oct 27-Nov 1

3

16

35

36

67 Apr 19-24

10

23

25

30

67 Feb 16-21

6

19

30

35

67 Jan 26-31

6

20

33

28

65 Aug 5-10

16

29

19

22

65 July 16-21

12

34

18

20

65 June 24-29

22

28

12

23

65 May 13-18

16

37

14

20

65 Apr 2-7

15

36

14

22

65 March 16

18

39

17

16

Democrats

Approve strongly

Approve not strongly

Disapprove not strongly

Disapprove strongly

%

%

%

%

BUSH

04 May 21-23

4

8

17

66

03 Sep 19-21

5

11

20

62

01 Oct 5-6

40

42

5

7

CLINTON

00 Jan 7-10

68

19

5

6

99 Mar 19-21

73

17

3

4

98 Aug 10-12

68

17

6

6

98 Jan 30-Feb 1

79

13

2

4

97 Jan 31-Feb 2

60

24

4

4

96 Jan 12-15

56

26

7

4

95 Jan 16-18

43

33

9

7

94 Jul 15-17

41

35

10

9

94 Jun 3-6

48

28

7

11

BUSH

92 Jan 3-6

5

16

17

56

91 Dec 5-8

11

18

19

46

91 Nov 7-10

15

17

14

44

91 Feb 28-Mar 3

65

20

6

2

89 Nov 9-12

20

33

14

15

REAGAN

86 Jun 9-16

20

25

12

32

85 Nov 11-18

17

22

13

33

83 Sep 16-19

7

18

18

46

83 Jun 24-27

9

17

20

43

83 Jan 28-31

6

12

19

55

82 Oct 15-18

7

12

17

54

82 Mar 12-15

11

15

18

46

81 Nov 13-16

11

19

19

38

CARTER

79 Nov 16-19

22

24

18

21

79 Aug 3-6

13

30

25

20

79 July 13-16

16

22

26

24

79 May 4-7

19

28

21

18

79 Jan 5-8

20

39

14

12

78 Aug 11-14

17

34

19

14

78 Jul 21-24

17

33

22

13

78 May 19-22

22

33

18

13

78 March 31-Apr 3

24

35

16

11

78 Feb 24-27

24

40

13

9

77 Nov 18-21

29

39

11

7

77 Nov 4-7

28

38

11

9

77 Oct 21-24

29

37

12

8

77 Oct 14-17

31

35

13

9

77 Sep 9-12

34

36

8

7

77 May 6-9

44

30

8

5

77 March 18-21

56

28

2

2

FORD

76 Jan 23-26

10

25

23

31

75 Jun 27-30

12

29

16

30

NIXON

74 Aug 2-5

7

6

19

59

74 May 31-Jun 3

7

8

20

55

74 Feb 8-11

6

8

16

61

73 Nov 30-Dec 3

8

9

17

58

73 Nov 2-5

6

7

21

58

73 Sept 7-10

7

10

17

58

73 Aug 17-20

7

14

17

55

73 Aug 3-6

9

10

15

55

73 July 6-9

9

15

18

47

73 June 22-25

11

16

20

39

73 Mar 30-Apr 2

14

26

22

29

71 Aug 27-30

11

23

22

26

71 July 15-18

7

27

27

22

71 Feb 19-22

9

27

25

24

69 Sep 11-16

10

34

18

13

JOHNSON

67 Oct 27-Nov 1

22

40

18

10

67 Apr 19-24

25

37

14

11

67 Feb 16-21

26

35

16

10

67 Jan 26-31

27

35

12

8

65 Aug 5-10

16

29

19

22

65 July 16-21

47

33

6

5

65 June 24-29

50

27

6

7

65 May 13-18

48

33

5

4

65 Apr 2-7

45

32

6

8

65 March 16

23

40

12

14