The back-to-school buzz is in the air. Many children are thinking happy thoughts about new backpacks, new teachers, and seeing old friends. But for some parents, thoughts of the horrifying school shootings in Littleton, Colo., Jonesboro, Ark., and Santee, Calif., among others, may tinge that excitement with apprehension.
Gallup's annual Work and Education poll, conducted Aug. 9-11*, indicates that more than one in four (28%) parents of school-age children in the United States fear for their oldest child's physical safety at school -- essentially unchanged from 24% at this time last year. Most parents -- 71% -- say they have no such worries.
Lynne Spear, a grandmother who lives in the Los Angeles suburbs, says she doesn't worry. "The children are in public schools in a very safe neighborhood. I prefer to think that the school shootings of the 1990s were an aberration."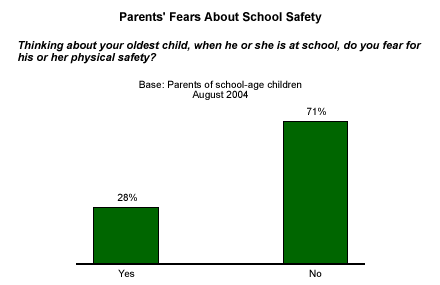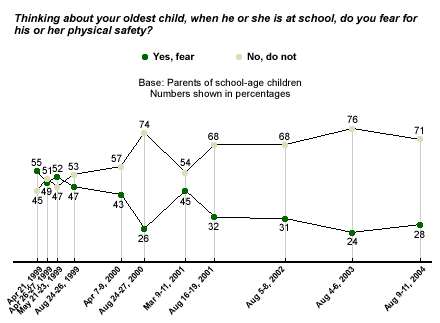 Those perpetual worrywarts -- a.k.a. moms -- seem to be a bit more concerned than dads about their children's safety. Gallup has been asking this question about school safety since 1999, and in most instances, women have expressed a higher level of concern than men have. In the 2004 survey, 33% of mothers say they worry for their child's safety, as do 22% of fathers.
Whose Else Is Worried About School Safety?
In the August poll, Gallup also asked parents if their children ever express worry about their safety at school. Just 10% of parents say that their kids told them they are worried about their safety at school this fall.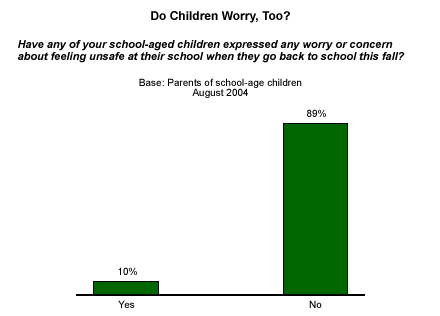 Richard Troth of Missouri, and his son, a fifth-grader, both worry about school safety, but according to Troth, their concerns are about "other kids, gangs, bullies," rather than gun violence.
Bottom Line
Although only a small percentage of parents report that their kids tell them they are afraid at school, other data suggest that kids may be more worried than they are letting on. A new Centers for Disease Control and Prevention study of more than 10,000 high school students found that although school violence in general has decreased in the last 10 years, teens' fears about attending school have increased. In 1993, 4.4% of teens said they had missed school because of safety concerns, compared with 5.4% in 2003, according to the report. The CDC surmises that the increase may be a result of increases observed among white students and ninth-graders in being threatened or injured with a weapon on school property and higher perceived vulnerability after the school shootings in the 1990s.
In 2003, the Gallup Youth Survey asked high school teens directly, "When you are at school, do you ever fear for your physical safety, or not?" Twenty-four percent said yes, while 75% said no. School violence or no school violence, the fact remains that some parents are worried about their children's safety at school, and some children are worried, too.
*Results are based on telephone interviews with national adults, aged 18 and older, conducted Aug. 9-11, 2004. For results based on sample of 291 parents with children in grades K-12, one can say with 95% confidence that the maximum margin of sampling error is ±6 percentage points.