Many political observers point to measures of national satisfaction (whether the United States is on the right or wrong track) as key indicators of a president's election prospects. Since 1979, Gallup has asked Americans, "In general, are you satisfied or dissatisfied with the way things are going in the United States at this time?" Polling over the past two months finds overall satisfaction in the 40% range, meaning a majority of Americans are dissatisfied with the course of the nation. Does this sole measure indicate that George W. Bush is therefore likely to be defeated by Democratic challenger John Kerry in November? The answer is no.
Since Gallup first started asking this satisfaction question, there have been four presidential elections with an incumbent president seeking re-election. In two of those races, satisfaction, along with other key measures, was at exceedingly low levels, and the incumbents eventually lost. In the other two elections, satisfaction was not much different from what Gallup is currently measuring, and both of those incumbent presidents won re-election rather easily.
1980
Gallup did not ask the mood of the nation question during the 1980 presidential race between Democratic incumbent Jimmy Carter and Republican challenger Ronald Reagan. However, the question was asked several times in 1979 and again in 1981.
The results from these polls show that satisfaction was low during the latter part of Carter's administration. In February 1979, about a quarter of Americans said they were satisfied with the way things were going. This sentiment declined to 12% in July before increasing to 19% in November of that year.
Just prior to Reagan taking office, a mid-January 1981 poll found 17% of Americans satisfied with the state of the nation. Satisfaction eventually rose to 33% during Reagan's first several months in office.
It is reasonable to hypothesize that had Gallup taken this measure in 1980 (that is, between the 19% reading in November 1979 and the 17% reading in January 1981), satisfaction levels during Carter's re-election campaign probably would have been similarly low.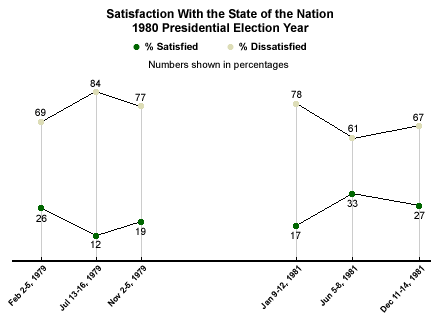 1984
In 1984, the year Reagan won his re-election bid in a landslide against Democratic challenger Walter Mondale, nearly as many Americans were dissatisfied as were satisfied with the way things were going in the country. In February 1984, half of Americans said they were satisfied with the way things were going and 46% were dissatisfied. In late September/early October, the figures were similar: 48% satisfied and 45% dissatisfied.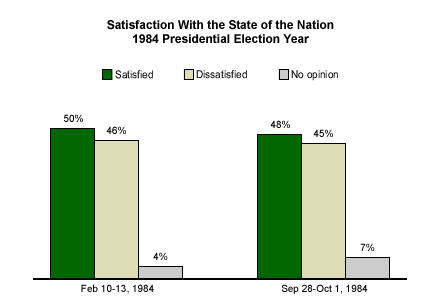 At 48%, satisfaction in the last poll before the 1984 presidential election was only four percentage points higher than it is in Gallup's most recent poll this year (44%).
1992
Throughout George H.W. Bush's re-election campaign against Democratic challenger Bill Clinton, satisfaction with the state of the union was low. During the first five months of 1992, the percentage of Americans who said they were satisfied averaged 21%. Satisfaction decreased to 14% in mid-June, and about a month and a half later, it edged up just slightly to 17%. By late August and early September, roughly one in five Americans (22%) were satisfied with the way things were going.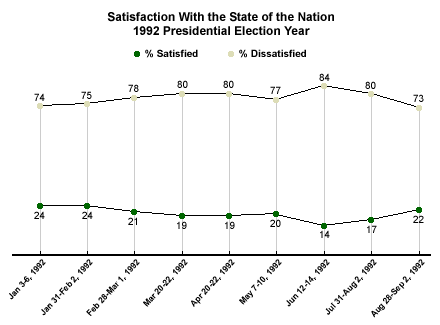 A week after Clinton defeated Bush, satisfaction only increased four points, to 26%, in mid-November.
1996
Clinton beat Republican challenger Bob Dole by nearly nine points in the 1996 election. Yet, over the first five months of 1996, public satisfaction ranged from a low of 24% (in January) to a high of 41% (in March). By mid-August, 38% of Americans were satisfied with the way things were going. This increased to 45% at the end of August and early September before decreasing to 39% in late October.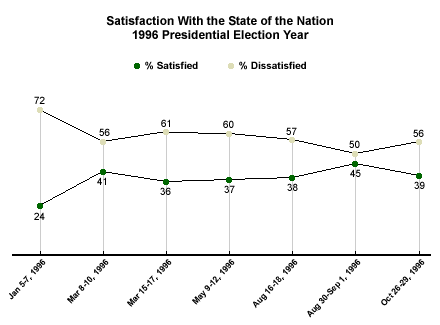 Satisfaction during the 1996 campaign was slightly lower, on average, than it is so far this year. From January through October 1996, an average of 37% of Americans said they were satisfied with the state of the nation. This compares with an average of 43% for the first eight months of this year.
2004
The most recent Gallup Poll, conducted Aug. 9-11*, finds 44% of Americans saying they are satisfied with the way things are going. The results are actually the highest Gallup has measured since February of this year. Between March and July, satisfaction has ranged from a low of 36% to a high of 41%. The public's satisfaction with the state of the nation averaged 49% in January and February.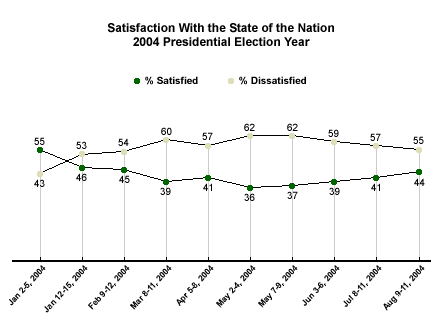 Bottom Line
The majority of Americans, according to a mid-August Gallup Poll, are not satisfied with the state of the nation today. However, an analysis of satisfaction in other years in which incumbents sought re-election suggests that this current level of satisfaction doesn't mean Bush won't win re-election this November.
The limited historical data available suggest no clear correlation between "lower than 50%" satisfaction levels and incumbent defeat. The most recent two incumbents who won re-election (Clinton and Reagan) did so at a time when satisfaction levels were at or below 50%. The data also show that recent unsuccessful incumbents lost their bids at times when national satisfaction was substantially lower than it is now.
Gallup has found that presidential approval ratings are a better predictor of re-election success than are overall satisfaction levels, and Bush currently has 51% job approval -- which puts him above presidents who have been defeated for re-election, but also below presidents who have won re-election.
*Results are based on telephone interviews with 1,017 national adults, aged 18 and older, conducted Aug. 9-11, 2004. For results based on the total sample of national adults, one can say with 95% confidence that the margin of sampling error is ±3 percentage points.