The Olympics may be over, but the sports world hasn't gotten much of a breather: the football season kicked off, the U.S. Open and World Cup enthralled tennis and hockey fans, and baseball's playoffs and the NBA preseason are on the horizon. Across the country, school's back in session and high school students are starting their own fall sports seasons.
So, August is a good time to ask American teens about sports. The most recent Gallup Youth Survey* invited 13- to 17-year-olds to name their three favorite male athletes and their three favorite female athletes. While a substantial number of teens do not name any athletes as their favorites, basketball players are among the most popular male athletic stars, while tennis players seem to have an advantage among female stars.
Favorite Male Athletes
Roughly 4 in 10 teens did not list any male athletes as their favorites. However, among teens who named their favorites, basketball players dominate the top of the list, which may indicate that sport has a special appeal to young Americans. Ten percent of teens mention Michael Jordan, considered by many to be the greatest basketball player of all time, and 8% mention Shaquille O'Neal. Los Angeles Lakers basketball star Kobe Bryant, who recently faced charges of sexually assaulting a 19-year-old woman in Colorado (the criminal charges were dropped on Sept. 2), also rates as one of teens' favorite athletes. At least 2% of teens mention other basketball players: Allen Iverson (5%), Jason Kidd, LeBron James, and Tracy McGrady (each with 2%).
But basketball isn't the only sport represented. Five percent of teens mention golfer Tiger Woods, and 3% each mention tennis star Andy Roddick and quarterback Brett Favre. Professional golfers, tennis players, baseball and football stars, soccer players, cyclists, and skateboarders round out the list of teens' favorite male athletes.
Favorite Female Athletes
The list of most admired female athletes is somewhat shorter than the list of male athletes, no doubt because there are simply fewer high-profile female athletes to admire. In fact, 60% of teens did not name any female athletes as their favorites. Although professional women's sports leagues like the Women's National Basketball Association (WNBA) have a small but loyal fan base, they are not remotely close in popularity to the professional men's basketball, football, and baseball leagues.
Two tennis-playing phenoms -- sisters Serena and Venus Williams -- are among the top mentions (14% and 13% of teens, respectively). Soccer sensation Mia Hamm gets the nod from 10% of teens and 6% of teens name WNBA basketball player Lisa Leslie as one of their favorite female athletes. Tennis player and model Anna Kournikova, who is probably known more for her good looks and enormous advertising endorsements than she is for her athletic ability, is also mentioned by 6% of teens. Other females athletes mentioned by at least 2% of teens include track and field star Marion Jones, figure skater Michelle Kwan, basketball player Sheryl Swopes, and Wimbledon tennis champion Maria Sharapova.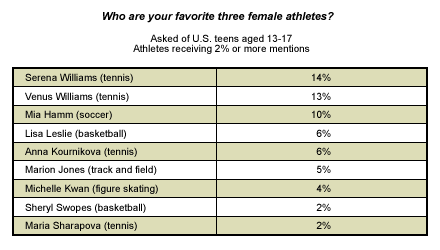 Olympic Hopefuls?
Many of the favorite athletes that teens mention have competed in the Olympic games at some point in their careers, although few are known primarily for their Olympic accomplishments. (Marion Jones, Michelle Kwan, and Mia Hamm may be notable exceptions.)
Because this Gallup Youth survey was conducted during the 2004 Olympics, Gallup also asked teens if they, themselves, aspire to be Olympic athletes. It appears that Olympic hopes are low on the priority list for most teens -- only 14% said they dream of reaching the Olympics, while 85% said they don't.
*
The Gallup Youth Survey is conducted via an Internet methodology provided by Knowledge Networks, using an online research panel that is designed to be representative of the entire U.S. population. The current questionnaire was completed by 439 respondents, aged 13 to 17, Aug. 8-19, 2004. For results based on the total sample, one can say with 95% confidence that the maximum margin of sampling error is ±5 percentage points.