The current situation in Iraq may have special implications for American teenagers. Teens who join the military after high school may find themselves participating in a sustained U.S. military presence in Iraq, supporting the Iraqi government's efforts to establish security and stability in the face of increasing insurgent attacks.
A new Gallup Youth Survey* finds that support for the Iraq war has slipped among U.S. teens since earlier this year. According to the August survey, half of 13- to 17-year-olds (50%) think the situation in Iraq was worth going to war over, down from 62% in an earlier poll conducted January through March.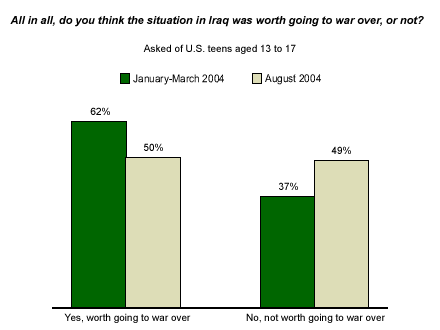 The period between these two surveys was a difficult one for U.S. forces in Iraq. Soon after control of Fallujah was lost to insurgents in April, news of the Abu Ghraib prison scandal made the U.S. military a target of international outrage. Attacks stepped up throughout Iraq over the summer; according to the Defense Department, there were 87 attacks on U.S. forces per day in August.
Given that spate of bad news, it's no surprise that the percentage of teens saying that the war has made the United States safer from terrorism has dropped slightly, from 37% earlier this year to 30% in August. Though the shift isn't sizable, it means that more teens now think the war has made the United States less safe from terrorism (36%) than say the war has made the U.S. safer (30%).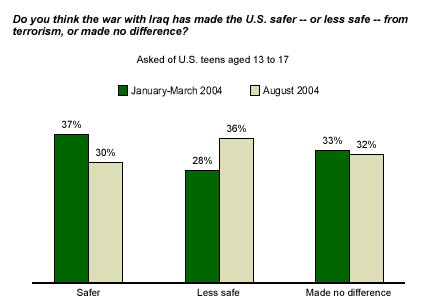 Partisan Divide
Most teens are too young to vote, but they are by no means immune to the partisanship that dominates this issue: 82% of teens who say they plan to vote Republican when they are old enough feel it was worth going to war in Iraq, as do just 28% of teens who plan to vote Democratic. Those who plan to remain politically independent are split down the middle, 50% saying it was worth it, 49% saying it wasn't.
Similarly, more than half of Republican teens (54%) feel the war has made the United States safer from terrorism, while 20% say less safe, and 25% say it has made no difference. On the other hand, just 13% of Democratic teens say the war has made the United States safer, while half (50%) say it's less safe, and 35% say the war has made no difference. Teens who plan to remain independent skew toward the latter camp on this question: 28% say the war has made the country safer, 39% say less safe, and 33% say no difference.
*The Gallup Youth Survey is conducted via an Internet methodology provided by Knowledge Networks, using an online research panel that is designed to be representative of the entire U.S. population. The current questionnaire was completed by 439 respondents, aged 13 to 17, Aug. 8-19, 2004. For results based on the total sample, one can say with 95% confidence that the maximum margin of sampling error is ±5 percentage points.