When it comes to gun legislation issues, there's no question where gun rights groups, such as the National Rifle Association, and gun control advocates, such as the Brady Campaign, stand. But what about the American people? Gallup's October 2004 crime survey* addresses several key gun-related issues; the results portray a populace that has become more hesitant in recent years to say gun laws should be made more strict.
According to the October survey, conducted after the publicized September expiration of a 10-year ban on assault rifles, slightly more than half of Americans (54%) say laws covering the sale of firearms should be made more strict, while 11% say the laws should be less strict, and a third (34%) say they should be kept as they are now. Opinion is essentially the same as it was in the last two Gallup crime polls.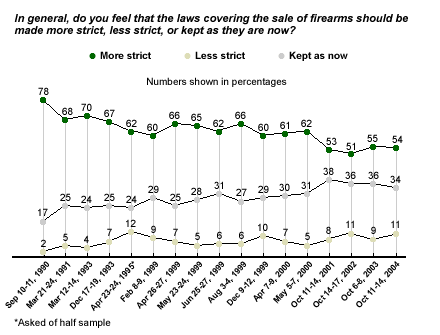 The most recent results are part of a larger pattern that suggests the public is becoming less willing to say that gun laws should be made stricter. Between 1990 and 1993, an average of 71% of Americans said laws regulating firearms should be stricter. After Congress passed two major gun laws, the Brady Bill on handguns in late 1993 and an assault rifle ban in 1994, support for stricter gun laws dropped to 62% in 1995. Average results from six surveys Gallup conducted in 1999 -- the year of the Columbine High School shootings -- showed that 63% of Americans thought gun laws should be made stricter that year.
Other recent Gallup data show that more Americans advocate a more strict enforcement of existing gun laws as opposed to passing new gun laws.
Women, Nonwhites, Liberals Support Stricter Laws
Some Americans are more inclined than others to say the laws covering firearm sales should be stricter. Women are much more likely than men to want stricter gun laws (65% to 42%) and nonwhites are slightly more likely than whites to desire stricter laws (62% to 52%). Conservatives tend to be more pro-gun rights than are liberals or moderates. Seven in 10 liberals (70%) think the laws should be stricter, compared with just 41% of conservatives. Conservatives are also more likely than liberals or moderates to own guns (see "Praise the Lord and Pass the Ammunition" in Related Items).
Opinion on gun laws also tends to vary by type of community. People living in rural areas -- where hunting is more prevalent -- are less likely than those living in suburban and urban neighborhoods to think gun laws should be stricter. Just 44% of rural dwellers think so, compared with 56% of suburbanites and 59% of urban dwellers.
Handguns and Automatic Weapons
Handguns, which are more strongly associated with crime than other guns, tend to be sticking points in debates about gun laws. But Americans still do not give wholehearted -- or even majority -- approval to bans on this weapon. About a third (36%) of Americans think there should be a ban on the possession of handguns, except by police or authorized persons; 63% think there should not be a ban. The percentage saying there should be a ban on handguns has not broken the 40% threshold since December 1993. Support was 60% when first asked in 1959, and above 40% in the 1960s and 1970s.
Gallup also asks Americans whether they are for or against a law that would make it illegal to manufacture, sell, or possess semi-automatic guns known as assault rifles. Currently, Americans are almost evenly divided on this question, with 50% supporting such a law and 46% opposing it.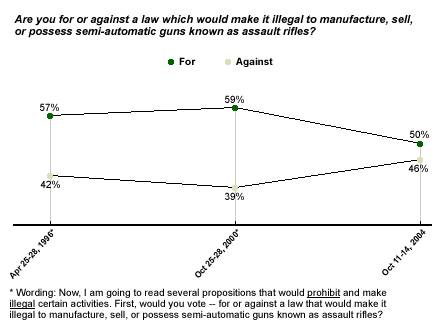 *These results are based on telephone interviews with a randomly selected national sample of 1,012 adults, aged 18 and older, conducted Oct. 11-14, 2004. For results based on this sample, one can say with 95% confidence that the maximum error attributable to sampling and other random effects is ±3 percentage points. In addition to sampling error, question wording and practical difficulties in conducting surveys can introduce error or bias into the findings of public opinion polls.