How much money does one need to retire? There is no simple answer. While financial planners might put the figure at somewhere between 70% and 80% of pre-retirement income, the amount of money needed varies according to one's individual situation and plan for retirement. The projected length of retirement, desired post-retirement lifestyle, and financial situation all come into play when figuring out how much money to put away.
The 2004 UBS/Gallup retirement study* asked retired, as well as non-retired, investors how much money they think they need (or will need) in their retirement years. On average, non-retired investors report current monthly household earnings of about $6,600 ($5,000 median), and estimate that they if they retired today they would need an average monthly household income of about $4,100 ($3,000 median) to support themselves. This average figure is about 60% of their pre-retirement income -- below the 70% to 80% recommended by financial planners. Investors who are currently retired say they presently need, on average, about $3,900 a month ($3,000 median) to meet their expenses.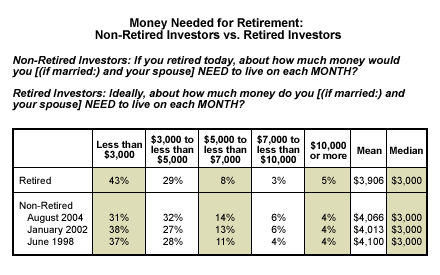 Results from another question asked of retired investors suggest that non-retirees could be underestimating the income they will need to maintain their standards of living. Forty-six percent of retired investors say that when they first retired, they needed about the same amount of money to live on as they did before they retired. Eleven percent say they actually needed more than before they retired, and 42% say they required less.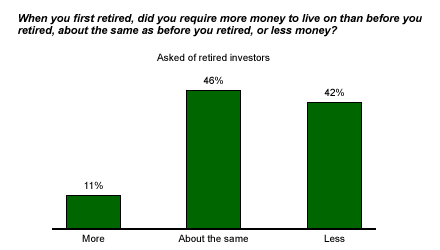 It also appears that non-retired investors -- the majority of whom are homeowners -- might be overly ambitious in their expectations to pay off their mortgages before retirement. While only 16% of non-retired investors expect they will still be making mortgage payments during their retired years, the reality is 28% of retired investors still have a mortgage to pay off.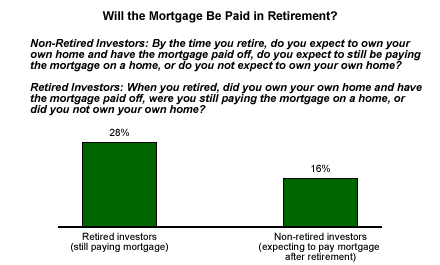 Bottom Line
Non-retired investors may have an overly optimistic view of what their financial needs will be in retirement. The survey reveals that 34% of non-retired investors do not have any formal plan to reach their investment and retirement goals, and it appears that their back-of-the-envelope calculations -- including the percentage of their non-retirement income they'll need for retirement and the likelihood of paying off their mortgages before retiring -- may be off the mark.
*The special retirement survey is based on a telephone survey of a nationally representative sample of 612 investors who are not retired and of 412 investors who are retired. To be classified as an investor, one must have a minimum of $10,000 in investable assets. All interviewing was completed between July 29-Aug. 1, 2004. For results based on the sample of non-retired investors, the margin of error is ±4 percentage points at the 95% confidence level. For results based on the sample of retired investors, the margin of error is ± 5 percentage points at the 95% confidence level.