Or, will falling gas prices save holiday sales and the nation's retailers?
PRINCETON, NJ -- Early holiday sales reports have not been encouraging for the nation's retailers. Many companies have already been forced to significantly decrease prices while increasing their advertising and other promotions. Overall, consumers are seen as less than enthusiastic and as being highly price-conscious spenders this holiday season.
Gallup's latest poll (Dec. 5-8) results provide some support for the idea that consumer confidence is not as strong right now as it was a year ago. Still, consumers' holiday spending intentions have jumped up significantly, according to the most recent December Gallup survey, suggesting the possibility of a more robust holiday retail season than some may have anticipated.
Consumers Rate the Current Economy About the Same as a Year Ago
In December, 37% of consumers rate current economic conditions as "good" or "excellent" while 19% say they are "poor" -- a difference of +18 percentage points. This is up slightly from November ratings and virtually identical to those of a year ago when this difference was also +18 percentage points. There has been very little substantive change in the current economy ratings all year.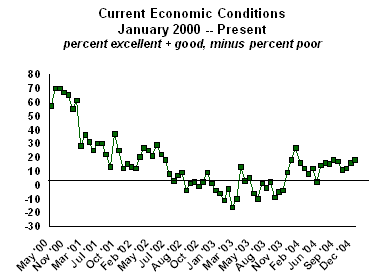 Consumers Are Less Optimistic About the Economic Direction Than a Year Ago
In December, more consumers say economic conditions are "getting better" (47%) than say they are "getting worse" (42%) -- a difference of +5 percentage points. This is about the same as in November when the difference was +6 percentage points, but much less favorable than this time last year when 60% of consumers said economic conditions were getting better and only 32% said they were getting worse -- a difference of +28 percentage points. This means consumers were significantly more optimistic about the future prospects for the U.S. economy a year ago than they are this holiday season. This optimism was short-lived, however; at several points this year Americans have been economically pessimistic -- including as recently as October, when only 39% said economic conditions were getting better and 50% said they were getting worse.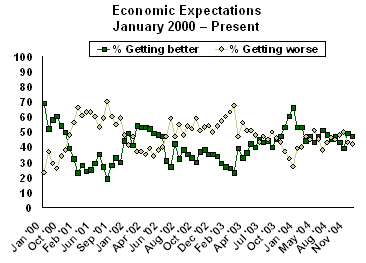 Consumers Plan to Spend More on Christmas Gifts This Year
Gallup asked consumers in both November and December to tell us roughly how much they thought they would personally spend on Christmas gifts this year. There has been a significant increase in the resulting average amount over the last month. In November, Americans said they would be spending an average of $730. Now, in the Dec. 5-8 poll, the average amount has jumped to $862, a substantial increase. Although Americans' estimates tend to get larger as Christmas approaches, this is a bigger increase than seen in previous years, and suggests at least the possibility for a recovery in spending in the last weeks before Christmas.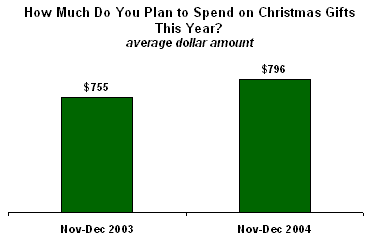 But, Fewer Consumers Plan to Increase Their Christmas Spending This Year
Despite the significant increase in projected spending, there has been little change in Americans' views of whether or not the spending will be more than last year. Sixteen percent of consumers say they will increase their Christmas spending this year while 23% say they will decrease it -- a difference of -7 percentage points. Last December, 19% of consumers said they intended to spend more on Christmas gifts and 21% said less -- a difference of -2 percentage points.
The significance of the disparity between the dollar amounts given by Americans and the perception that it will be more or less than last year is unknown. Analysis of changes in anticipated spending within category between November and December this year does show that the largest increase comes in the high-end group planning on spending $1,000 or more. This suggests that while most Americans continue to rein in spending, the upscale retail market may be robust.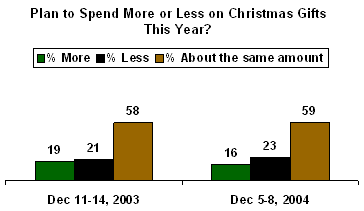 Consumers Plan to Do Their Christmas Spending in Many Ways
Seventy-seven percent of consumers say they are "somewhat likely" or "very likely" to do their Christmas shopping at department stores this year while nearly as many (72%) say they will use discount stores and 55% say they will use specialty stores. Three in 10 consumers plan to use the Internet and just about the same percentage (28%) intend to use mail order catalogs. Interestingly, the number of consumers saying they will use the Internet for their holiday shopping this year is essentially the same as it was in 2002 (29%), although it remains much higher than in the late 1990s. Anticipated shopping at department stores and specialty stores is down slightly from previous years.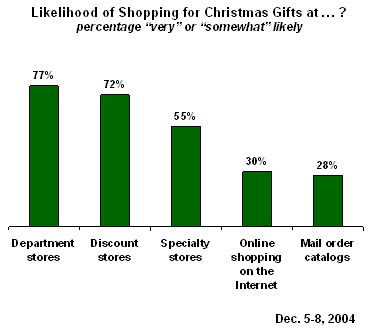 Will Falling Gas Prices Increase Holiday Spending?
Oil prices have tumbled during recent weeks and gas prices have followed suit. This is much-needed good news for the nation's retailers, particularly those who serve middle- and lower-income households. A decline in gas prices acts much like a tax cut giving consumers more disposable income to spend.
Combine declining gas prices with an aggressive price discounting effort on the part of many retailers, and it may just be possible that there'll be a last-minute holiday spending spree over the next couple of weeks. Of course, if that is not the case, then it will be hard for this holiday season to produce even the 4% to 5% sales increase that everyone seems to be looking for this year.
Survey Methods
These results are based on telephone interviews with a randomly selected national sample of 1,003 adults, aged 18 and older, conducted Dec. 5-8, 2004. For results based on this sample, one can say with 95% confidence that the maximum error attributable to sampling and other random effects is ±3 percentage points. In addition to sampling error, question wording and practical difficulties in conducting surveys can introduce error or bias into the findings of public opinion polls.