The Aviator, Million Dollar Baby, and Ray all took top honors at Sunday night's Academy Awards show, Hollywood's major tribute to the 2004 film season. But although these movies are on Hollywood's A-list, they weren't on teenagers' must-see lists. In the January Gallup Youth Survey*, we asked teens to name their favorite movie from 2004. While there was no clear consensus, Napoleon Dynamite -- a story about a super-nerdy teen who doesn't get the girl -- took home teens' top honor. Other frequently mentioned films include Spider-Man 2, The Lord of the Rings: The Return of the King (which was actually a 2003 release), Shrek 2, The Grudge, and Dodgeball.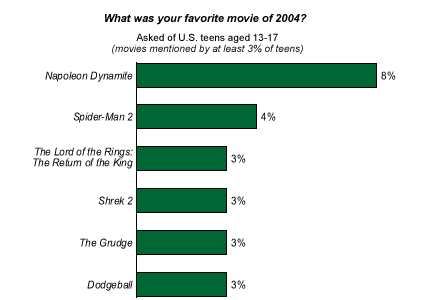 Harvard Study Finds "Ratings Creep"
Parents may take comfort in Napoleon Dynamite's PG rating. Among teens' other favorite movies, Shrek 2 is also rated PG. Other favorite picks are a mix of predominantly PG-13 movies, several R-rated movies, and even a few G-rated movies.
A 2004 study by the Harvard School of Public Health (HSPH) examined ratings of movies released between 1992 and 2003 and found evidence of "ratings creep" -- meaning movies earning PG-13 ratings in 1992 were far tamer than films receiving that rating today. For example, Mrs. Doubtfire received a PG-13 rating in 1993. Compare that with Minority Report, a film given a PG-13 rating in 2002, which contains violence, profanity, and some sexuality and drug content.
A Gallup Youth Survey from 2003 found teens went out to see an average of seven movies per year in theaters, and they no doubt see far more than that at home. Parents of avid movie-watching teens may find themselves re-evaluating the ratings scale and making adjustments based on their own individual comfort levels.
Bottom Line
Just because most of teens' top movie picks were rated PG or PG-13 doesn't mean teens don't see R-rated movies. Plenty of R-rated titles -- Troy, The Passion of the Christ, Garden State, and others -- showed up on the list. In a previous Gallup Youth Survey, a solid majority of teens said they are not bothered by the amount of sexual content and violent episodes they see in movies (see "Does R Rating Mean 'Run of the Mill' to Teens?" in Related Items).
*These results are based on telephone interviews with a randomly selected national sample of 1,028 teenagers in the Gallup Poll Panel of households, aged 13 to 17, conducted Jan. 17 to Feb. 6, 2005. For results based on this sample, one can say with 95% confidence that the maximum error attributable to sampling and other random effects is ±3 percentage points. In addition to sampling error, question wording and practical difficulties in conducting surveys can introduce error or bias into the findings of public opinion polls.