Quality perceptions positive for nurses, physicians
In poll after poll, it's evident that most Americans are unhappy with what they pay for healthcare. But does their displeasure with healthcare costs color their perceptions of healthcare quality?
According to a recent Gallup Poll Panel study*, only 6% of Americans are satisfied with healthcare costs, and 71% are not satisfied, including 46% who are not at all satisfied. They are more positive about the quality of healthcare, but those ratings are nevertheless hardly glowing -- 60% of Americans rate healthcare quality as "excellent" or "good," but more than a third (37%) rate it as "only fair" or "poor."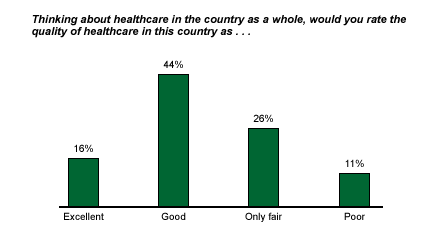 Cost and access issues are highly related to perceptions of healthcare quality. Those who are not at all satisfied with healthcare costs are the least likely to rate the quality of healthcare as excellent or good, while those who are satisfied with costs are far more likely to give positive quality ratings.
Similarly, those who are less likely to be able to afford healthcare's hefty price tags -- such as lower-income Americans and younger Americans -- are the most likely to rate the quality of healthcare as only fair or poor.
Ratings of Healthcare Sectors
So it's fairly certain that members of some demographic groups are more likely to rate the same healthcare services more poorly than others. But another question I frequently hear is this: Which specific components of the healthcare system are the most poorly rated?
The Gallup survey asked respondents to rate the medical services that different aspects of the healthcare system provide. Americans view the people who provide healthcare services (nurses, physicians) more favorably than they view the institutions providing those services (hospitals, emergency rooms, nursing homes, etc.). The vast majority of Americans rate the services that nurses and doctors provide as excellent or good (although no more than one in four rate each as excellent). Hospitals and hospital emergency rooms also receive majority excellent or good ratings.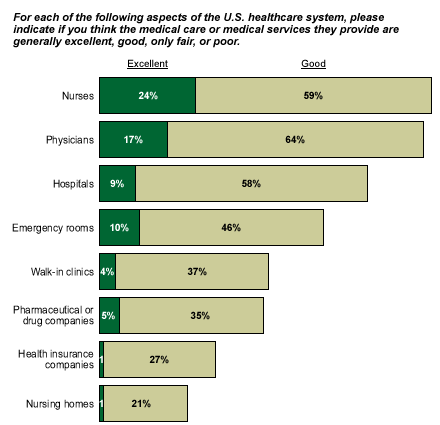 About 4 in 10 Americans rate walk-in clinics and pharmaceutical companies positively, while health insurance companies and nursing homes receive dismal ratings: 28% of Americans rate the services that insurance companies provide as excellent or good; 22% rate nursing homes this way.
Clearly, the high costs of prescription drugs, health insurance, and nursing home care are negatively affecting ratings of these services. The three sectors of the healthcare system that are among the most directly associated with broad, out-of-pocket expenses also receive the lowest quality ratings of the eight entities Gallup measured. America has the most technologically sophisticated and expensive healthcare system in the world, but in Americans' eyes, the quality of this system remains in question -- because it cannot provide its desired outcomes if they cannot afford to access it.
*These results are based on telephone interviews with a randomly selected national sample of 4,984 adults in the Gallup Poll Panel of households, aged 18 and older, conducted Nov. 16, 2004 to Jan. 5, 2005. For results based on this sample, one can say with 95% confidence that the maximum error attributable to sampling and other random effects is ±1.5 percentage points. In addition to sampling error, question wording and practical difficulties in conducting surveys can introduce error or bias into the findings of public opinion polls.