Cigarette smoking varies by education level
Smoking is one habit many Americans seem to have dropped -- or never picked up -- in the last few decades. Nearly half as many Americans say they smoke today as said so in the early 1970s. Yet, according to the U.S. Centers for Disease Control and Prevention (CDC), tobacco use is still the leading preventable cause of death in the United States, causing more than 440,000 deaths in this country each year. In addition, the American Cancer Society claims that smoking accounts for some 30% of all cancer deaths.
Despite these harrowing statistics, a recent Gallup Poll Panel study* of nearly 5,000 Americans found 15% of respondents smoke cigarettes every day, 5% smoke some days, and nearly half (47%) have smoked at least 100 cigarettes in their lives (the CDC defines smokers as those who have smoked at least 100 cigarettes in their lifetimes and currently smoke -- 19% of respondents would fit that description).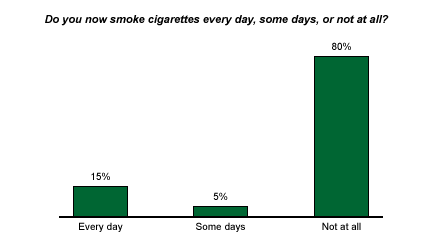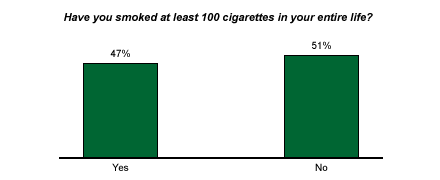 Demographic Differences
According to the CDC, approximately 80% of smokers began smoking before the age of 18. It makes sense that young adults (aged 18 to 29) are less likely than older adults to have smoked 100 cigarettes over the course of their lifetimes (32% of 18- to 29-year-olds have lit up 100 times, compared with 45% of 30- to 49-year-olds and 55% of 50- to 64-year-olds). But the rate of smoking among young adults is the same or higher than those in other age groups.
Cigarette smoking varies based on education level -- respondents with less education are more likely than highly educated respondents to smoke daily or occasionally and also to have smoked 100 cigarettes in their lifetimes. These findings confirm an educational attainment link also observed in CDC cigarette smoking estimates.
Smoking Rates Vary With Self-Perception of Physical and Mental Wellbeing
The size of this panel sample allows us to look closely at the smoking habits for specific groups of respondents. A majority (58%) of respondents who describe their own physical health as "fair" or "poor" have smoked 100 cigarettes in their lives, while 45% of those who describe their physical health as "excellent" or "good" say they have smoked 100 cigarettes. A similar pattern exists among people who describe their mental health as fair or poor versus excellent or good.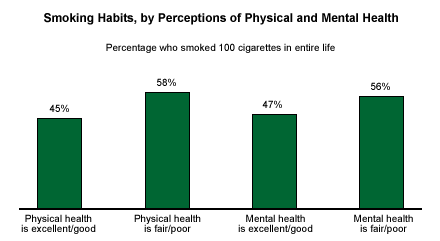 Nineteen percent of panel respondents in excellent or good physical health say they smoke every day or some days, while 27% of those in fair or poor health smoke at least some days. The gap is larger when looking at mental health -- only 19% of respondents in excellent or good mental health smoke every day or some days, as do 31% of people who define their mental health as fair or poor.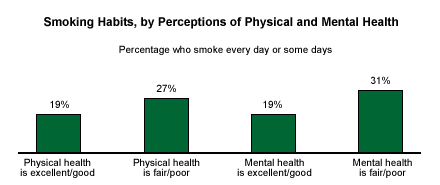 Chewing Tobacco Is Less Common Than Smoking Cigarettes
Using chewing tobacco or snuff is considerably less prevalent than cigarette smoking. Gallup's survey found that only 3% of respondents chew tobacco or use snuff either daily or some days, compared with 20% who smoke that often. Nearly all those who use chewing tobacco or snuff are male.
Bottom Line
By 2010, the CDC hopes to reduce the proportion of smokers in the United States to 12%. However, Gallup's historical trend on American smoking habits suggests that drastic changes would need to occur in the next five years for that to happen. Though the percentages of smokers have declined over the years, the decline has slowed and percentages have been relatively stagnant for a number of years.
*These results are based on telephone interviews with a randomly selected national sample of 4,984 adults in the Gallup Poll Panel of households, aged 18 and older, conducted Nov. 16, 2004, to Jan. 5, 2005. For results based on this sample, one can say with 95% confidence that the maximum error attributable to sampling and other random effects is ±1.5 percentage points. In addition to sampling error, question wording and practical difficulties in conducting surveys can introduce error or bias into the findings of public opinion polls.