Those in good physical health also in good emotional health
The mind-body connection is well-documented. For example, a 2003 report by the National Center for Chronic Disease Prevention and Health Promotion found that self-reported mental distress is "an important determinant of health behaviors related to chronic disease and disability prevention." And the U.S. Surgeon General suggests that mental health cannot be fully examined in isolation of its inextricable relationship with physical health. Results from a recent Gallup Poll Panel study* of nearly 5,000 Americans also supports this connection.
Physical-Emotional Connection
Overall, a substantial majority of panel members (87%) assessed their mental or emotional wellbeing positively, with 40% saying it is "excellent" and 47% classifying it as "good."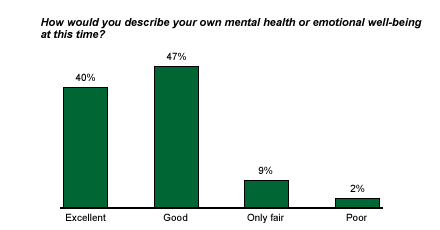 More than 9 in 10 panel members (92%) who described their physical health as excellent or good also believe that their mental health is excellent or good. In comparison, only 64% of those who rated their physical health as fair or poor said their mental health is excellent or good.
Sixty-one percent of respondents reported that they didn't experience any days in the last month in which their emotional wellbeing wasn't good, while 35% of respondents reported having one or more bad emotional health days.
Only 31% of respondents who described their physical health as excellent or good stated that their emotional wellbeing was not good for one or more days in the past month, while nearly double the percentage of those who rated their physical health as only fair or poor were comparably afflicted. While 20% adults who said their physical wellbeing was less than stellar said they experienced six or more days or poor mental or emotional health in the last month, only 4% of physically healthy respondents said the same.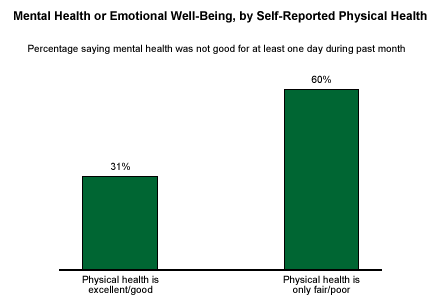 Those who indicated that their mental or emotional health was not good for at least one day last month were asked how many days that state kept them from their usual activities, such as self-care, work, or recreation; those who considered themselves to be physically healthy reported substantially fewer days like this than those in fair or poor physical health.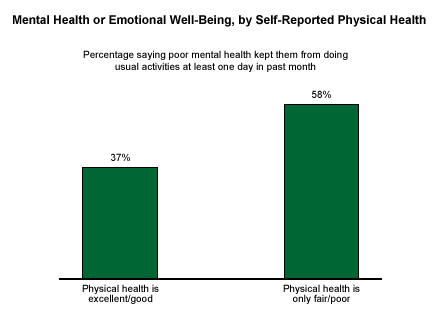 Could Weight Play a Role in Emotional Wellbeing?
In today's weight-obsessed culture, a link between perceived weight and self-reported mental or emotional wellbeing would not be surprising. The panel data suggest a relationship between the two -- 46% of respondents who consider their weight to be "about right" also described their mental health as excellent. This proportion is somewhat lower among respondents who feel they are overweight (37%) or underweight (30%).
Of course, exercise boosts physical health, but it also increases feelings of psychological wellbeing, according to the U.S. Centers for Disease Control and Prevention. The Gallup results offer support for that statement, as more adults who say they exercise three to five days a week considered themselves to be in excellent mental health than those who do not exercise as regularly. Additionally, those who generally spend 20 minutes or more each time they exercise were significantly more likely than those who exercise for longer or shorter periods to be emotionally well. Looking at those variables in tandem, 46% of those who say they get aerobic exercise at least twice a week for at least 20 minutes each time characterize their mental health or emotional wellbeing as excellent. Among those who get less than that minimum threshold of exercise, 36% said their mental health or emotional wellbeing is excellent.
Bottom Line
Gallup's survey data bolster the idea that exploring the relationship between physical and mental health could lead to important revisions in how an individual's overall health is perceived, and how treatment of one aspect can have a positive effect on the other.
*These results are based on telephone interviews with a randomly selected national sample of 4,984 adults in the Gallup Poll Panel of households, aged 18 and older, conducted Nov. 16, 2004, to Jan. 5, 2005. For results based on this sample, one can say with 95% confidence that the maximum error attributable to sampling and other random effects is ±1.5 percentage points. In addition to sampling error, question wording and practical difficulties in conducting surveys can introduce error or bias into the findings of public opinion polls.