Stock market predictions among gloomiest since 2001
Data from the latest Gallup Poll* on several key economic indicators show that while most Americans have accepted that inflation and interest rates are on the rise, they are not so confident about an upswing in economic growth or stock market valuations.
In Tune With Inflation
Interestingly, consumer sentiment seems to have presaged last week's lower-than-expected consumer price index (CPI) -- opinion on the prospect of rising inflation somewhat reversed course in June. In May, 74% of Americans expected inflation to rise in the next six months, but in June, only 65% had the same opinion. While the majority of Americans are still prepared for inflation to rise, a significant number apparently have changed their minds on the subject.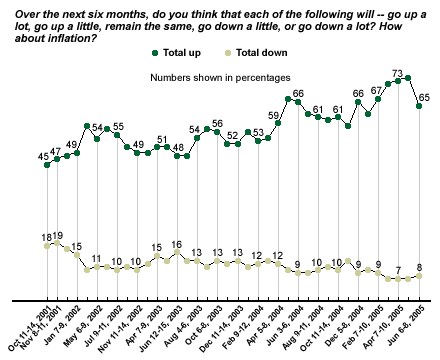 Interest Rates on the Rise
Americans have accepted the eventuality that the Federal Reserve will stay its course of interest rate tightening -- since May 2004, at least 2 in 3 Americans have predicted that interest rates would rise over the next six months. Since January this year, the percentage predicting an increase remained at about three-quarters of Americans. As of June, however, that percentage has moderated somewhat to 71%. The release of the benign CPI number last week does not mean the Fed will leave interest rates unchanged when it meets next week. Indications from the Fed are that the market should brace itself for another round of rate hikes, so perhaps the dip in the number of Americans predicting rising interest rates may change course.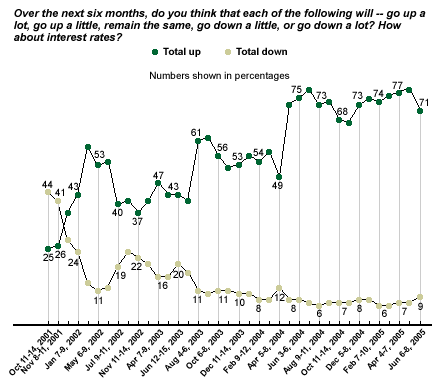 Economic Growth or Economic Shrinkage?
Public opinion is bleakest on the subject of economic growth. In December 2003, Americans were full of optimism about prospects for economic growth, with 65% saying that the growth rate would climb upward in the next six months. But in the year and a half since, optimism about growth has trended downward significantly, falling below a majority in May. That pessimism deepened in June, as just 44% of Americans believe the economy will grow in coming months.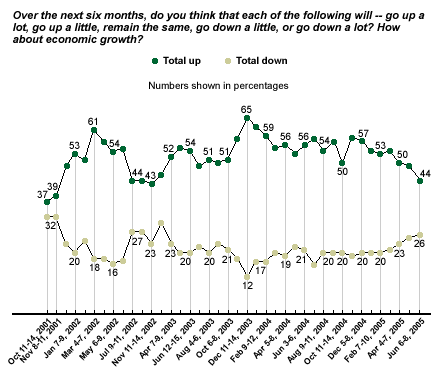 Tepid Opinion on the Stock Market
Among American consumers, there is no definitive view as to where stock prices are headed in the next six months. A plurality of Americans -- 37% -- are bullish, but another 28% believe the market will stay at its current level over the next six months, and 26% express bearish sentiments. It is worth noting that the bulls seem to be losing steam -- after hovering in the mid- to upper- 40% range in the first quarter this year, it has languished in the upper 30s in the second. In fact, the most recent readings are among the most pessimistic Gallup has measured since it first began tracking stock market predictions in October 2001.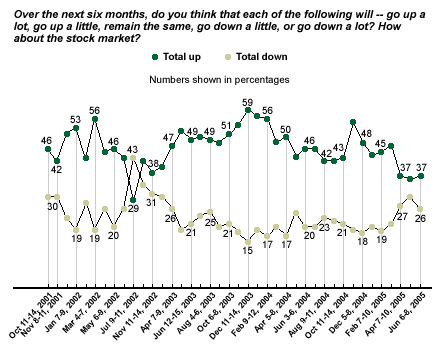 Bottom Line
The June reading of public opinion on the economy is hardly reassuring. Fewer Americans have hopes of rising equity valuations and opinion about economic growth prospects is at a two-year low. We can hope that this is a passing case of the summer doldrums, but the multiyear trend on these economic indicators makes a poor case for blaming these worries on the warm weather.
*These results are based on telephone interviews with a randomly selected national sample of 1,002 adults, aged 18 and older, conducted June 6-8, 2005. For results based on this sample, one can say with 95% confidence that the maximum error attributable to sampling and other random effects is ±3 percentage points. In addition to sampling error, question wording and practical difficulties in conducting surveys can introduce error or bias into the findings of public opinion polls.