Most say culture is thriving, but also cite concerns
This is the first article in a series based on results from Gallup's Soul of the City survey in Moscow.
During Moscow winters, the nights are long and cold. And as recently as the early 1990s, the nightlife on streets of Moscow was just about as frosty. Since then, business development in the Russian capital has transformed these long, cold Moscow nights with the bright, glittering lights of movie theaters, opera houses, and other entertainment venues, not to mention fitness centers and retail, restaurant, and fast-food chains.
The city looks much nicer during the day, too. It's quite clean, and when the weather is suitable, lawns are green and neatly mown, and flowers and plants provide a handsome landscape for the city's more than 10 million residents.
Moscow Living: Past, Present, and Future
Perhaps some of these dramatic aesthetic changes, which happened quickly over the last decade and a half, were top of mind when Muscovites rated their satisfaction with their city in a recent Gallup Soul of the City poll*. Sixty-one percent of Muscovites say they are satisfied with the city as a place to live. A majority of Muscovites are satisfied, but they appear less fulfilled now than they were in 2003, when 79% reported being satisfied.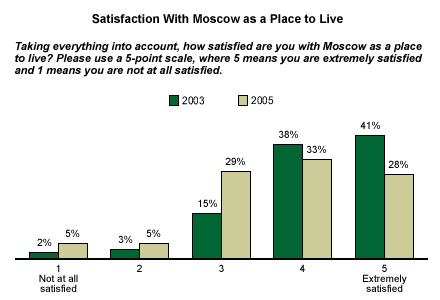 Twenty-eight percent of Muscovites say Moscow is the best possible city in which to live today. Nearly one in four Muscovites (23%) feel Moscow was the best possible city they could imagine living in five years ago. As is typically the case in ratings scales such as these, Muscovites are more optimistic about the future. A third (34%) report that Moscow will be the best possible city in which to live five years from now.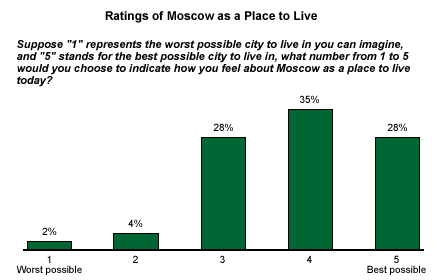 Quality of Life
Muscovites also rated specific elements of the city, giving some insights about why they rate Moscow highly as a place to live.
Moscow offers 156 dramatic theaters, 141 museums, 5 opera houses, 113 cinemas -- and the numbers are growing with the construction of multiplex cinemas. So it's no surprise that Muscovites are satisfied with the cultural opportunities their city provides, with nearly 9 in 10 people (88%) reporting cultural opportunities are good (with 58% saying "very good"). Muscovites' rating of the beauty or physical setting of Moscow is similarly high, as 86% rate the city's physical setting as good -- virtually unchanged since 2003. Culture and physical setting are attractive to tourists, and 80% of Muscovites rate their city as a good tourist destination.
While Moscow may have developed into a cultural epicenter, there are still problems. Safety is a concern of Muscovites -- only 22% feel the effectiveness of law enforcement is good, and despite the rise in entertainment opportunities, only 52% give a good rating to "having areas to go at night that are safe and fun."
Healthcare and air quality are also concerns. The numbers of Muscovites rating these two aspects of society as good are low: 22% for availability and accessibility of quality healthcare, and 16% for air quality. These numbers have also dropped since 2003, when 31% of Muscovites reported access to healthcare was good, and 22% reported air quality was good.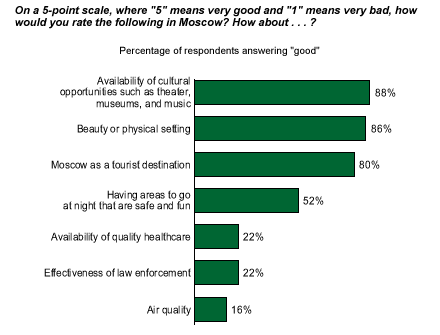 Although Muscovites' optimism about their city has endured since 2003, satisfaction has waned on several items. This could result from several factors. Days after two suicide bombers blew up two Russian airliners, terrorists bombed a Moscow subway station on Aug. 31, 2004, killing 10 and injuring scores of others. Although it took place far from Moscow, the Beslan hostage crisis began shortly thereafter, on Sept. 1. 2004. Hundreds of parents, teachers, and children were killed inside the school in Beslan, and the attack further heightened Russian concerns about safety. President Vladimir Putin has also recently initiated a number of unexpected political changes in Russia, creating a feeling of uncertainty among the citizenry.
But overall, Muscovites are proud of their city. More than three-quarters (77%) agree that they are proud to live in Moscow, including 59% who strongly agree.
Bottom Line
During the Cold War, Western media labeled Russia as an "evil empire" -- a name that paints a desolate, chilling picture. But with Moscow's beautified landscape, burgeoning business opportunities, and vast cultural offerings, Muscovites remain, for the most part, both proud and optimistic about their city.
*Results based on interviews with 1,008 Moscow residents, aged 18 and older, conducted in January and February 2005. For results based on this sample, one can say with 95% confidence that the margin of sampling error is ±3 percentage points.