Opinion varies by party, age
As Congress returns to session this week, lawmakers have their work cut out for them. They must address the aftermath of Hurricane Katrina, rising oil prices, and a number of other foreign and domestic policy issues. A recent Gallup Poll* shows congressional leaders also have work to do in terms of public perceptions, as Americans' approval of how Congress is handling its job remains low.
According to the Aug. 8-11 poll, slightly more than a third (36%) of Americans approve of the way Congress is handling its job. A majority -- 58% -- disapprove. These most recent results are consistent with findings from July, continuing the recent trend of ratings in the mid-30% range.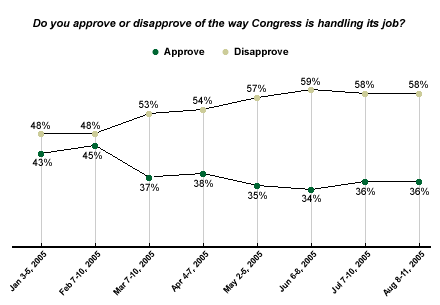 Congress' approval ratings have not been below 40% for as many months since the spring and summer of 1997. However, the current ratings are still significantly higher than Congress' low points. In March 1992 only 18% approved, and in June 1979 only 19% approved.
Opinion Varies by Political Party, Age Group
Political party affiliation affects Americans' opinions of Congress. More than half of Republicans (57%) approve of the way the current GOP-controlled Congress is doing its job, compared with less than a third of independents (29%) and only 22% of Democrats.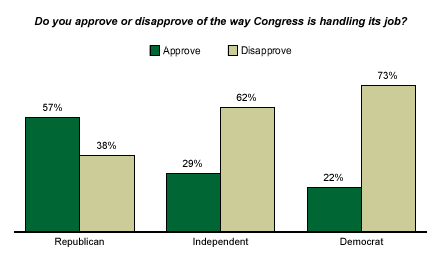 Congressional approval also varies by age, although less than a majority of every age group gives Congress a positive appraisal. Forty-three percent of 18- to 29-year-olds approve of the way Congress is handling things, as do 41% of those between the ages of 30 and 49. But, job approval is lower among Americans aged 50 to 64, just 29% approve, and among those aged 65 and older, 26% approve. Gallup research has shown consistent age differences such as these in congressional job approval all the way back to the first measurement in 1974.
*These results are based on telephone interviews with a randomly selected national sample of 1,001 adults, aged 18 and older, conducted Aug. 8-11, 2005. For results based on this sample, one can say with 95% confidence that the maximum error attributable to sampling and other random effects is ±3 percentage points. In addition to sampling error, question wording and practical difficulties in conducting surveys can introduce error or bias into the findings of public opinion polls.