Younger residents more positive about education
When it comes to public education, the United States and Russia are not as different as one might think. Russian students may not attend specific elementary, middle, and high schools like their peers in the United States, but the public school system in cities like Moscow faces obstacles similar to those in U.S. cities. Consequently, the Russian government is spending more and more to ensure safety in schools, provide educational resources and good teachers, and promote affordable post-secondary education.
Is it working? According to a Gallup study of Moscow residents*, Muscovites generally rate the Russian capital's public schools and colleges and universities positively. Additionally, younger adults, who might have recently graduated from secondary or post-secondary learning institutions or are still in school, are generally more positive about the education system than are older Muscovites.
About Half Rate Moscow Schools Good
Nearly half of Muscovites (46%) say the quality of public schools in Moscow is good, with 13% saying "very good."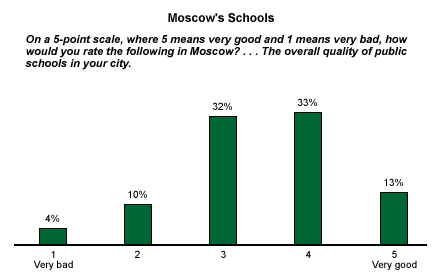 Younger Moscow residents are more likely than older Muscovites to regard the city's public schools favorably. Sixty-six percent of those aged 18 to 24 consider Moscow's public schools good, compared with 51% of those aged 25 to 34 and 41% of those aged 35 and older.
Muscovites High on Places of Higher Learning
What about higher learning institutions? Two-thirds of respondents (66%) rate the quality of Moscow's colleges and universities as "good," with a third saying "very good."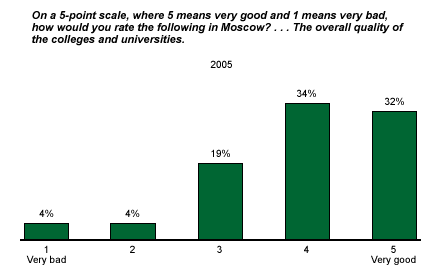 Once again, younger Muscovites are more likely than older residents to rate the quality of the city's colleges and universities favorably -- 77% of those aged 18 to 24 say the quality of such schools is good, compared with 69% of those age 25 to 34 and 63% of Muscovites aged 35 and older.
Bottom Line
President Vladimir Putin and Minister of Education Andrey Fursenko may have reinforced younger Muscovites' positive perceptions of education in the past few months. They announced what the Russian government believes are positive changes to the country's education system, including a crackdown on drugs in the schools and a more active role for Russian business leaders in education reform. In support of these reforms, the Russian government recently announced that expenditures for education in the country's 2006 budget will increase 29% from 2005.
*Results based on interviews with 1,008 Moscow residents, aged 18 and older, conducted in January and February 2005. For results based on this sample, one can say with 95% confidence that the maximum margin of sampling error is ±3 percentage points.