Project Russian Disneyland will be economic plus
Over the last few years, Moscow's economy has seen dynamic growth after decades of stagnation and economic insecurity, but residents of this city have strong and diverse views on how to ensure that growth continues. A recent Gallup Poll of Moscow* asked Muscovites about the effect they thought various proposed initiatives and events would have on the city's future economic prospects.
The idea of building industrial projects outside of city limits met with the most favorable response -- nearly 7 in 10 respondents say this would have a positive influence on the city's economy.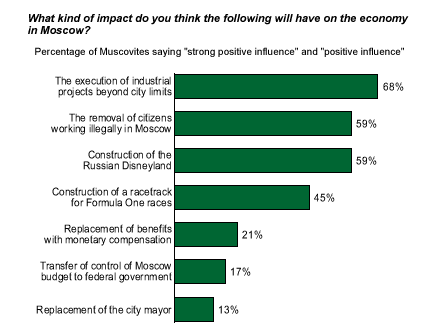 Going to Disneyland
The dream of a Russian Disneyland dates back four decades, but just this year the decision to build the theme park on the island of Nizhniye Mnevniki in Moscow was finalized. The majority of Muscovites (59%) think its construction in the city would aid the local economy. Given that the park will be built in an underdeveloped region of the city and potentially will generate much tourism, business, and spending, Muscovites' forecasts probably aren't off the mark.
Spinning Wheels
Several years ago, a group of Russian investors initiated a plan to build a Formula One caliber racetrack in Moscow -- construction will begin in 2006 at the earliest. Forty-five percent of Muscovites see this as good for their city's economy.
Illegal Immigrants
Russia has a massive illegal workforce. Illegal immigrants provide cheap labor and are an integral part of the country's shadow economy, which sustains high levels of criminal activity. Recently, MosNews reported that the government built deportation centers in the Moscow region to facilitate the removal of illegal immigrants. A majority of residents (59%) feel that removing illegal workers from the city will benefit the city's economy.
May-or May Not?
Yury Luzhkov has been mayor of Moscow since 1992. Despite criticisms occasionally leveled by Russian and foreign press at him and his wife, billionaire businesswoman Yelena Baturina, most Muscovites appear content with Luzhkov; only 13% say replacing him would have a positive economic effect on the city.
*Results based on interviews with 1,008 Moscow residents, aged 18 and older, conducted in January and February 2005. For results based on this sample, one can say with 95% confidence that the margin of sampling error is ±3 percentage points.