Majority of Americans don't see necessity
Online courses have become a virtual reality at many college campuses across the United States. According to the National Center for Education Statistics, as of 2001, 56% of all two- and four-year colleges offered distance learning courses to their students, and another 12% said they planned to offer these types of classes within three years. Among colleges that offered distance learning, 90% offered online courses.
The most recent Phi Delta Kappa/Gallup poll* attempted to ascertain whether Americans think high school students in their local communities should be required to take at least one online course because they are increasingly common at the college level. Four in 10 respondents (39%) say their schools should require this, while 56% say they should not.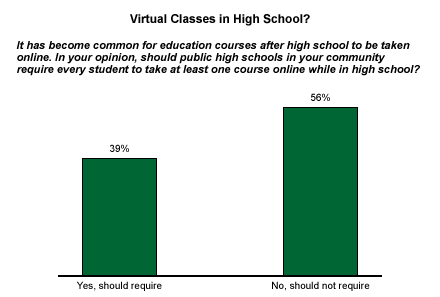 Advantages and Disadvantages
Proponents of online college courses say the courses broaden academic offerings to include subjects, like less-studied languages or advanced science classes, that are not available in the traditional classroom. Proponents also say online courses allow students to take classes according to their own schedules and enable them to work with university students around the globe.
"Taking an online course in high school certainly can't hurt," says Joe Guzzardo, director of communications at Thomas Edison State College , an all-distance-learning college in Trenton, N.J., whose average student is 40 years old. "Not everyone takes the linear route from high school to college," he says, "so taking an online course in high school may be particularly advantageous for those who pursue a degree a bit later in life."
There are some potential downsides to online learning. Opponents say online courses deprive students of personal interaction with teachers and fellow students. Carol Arnold, spokesperson for Virtual High School, a nonprofit organization that works with the nation's public high schools to provide online courses, says their sole purpose is to supplement and enrich traditional classes. "In-person classes are hugely important to high school students and VHS would never want online courses to replace that experience," she says.
Bottom Line
Thirty-six percent of the nation's school districts now offer distance education courses, according to a 2005 U. S. Department of Education report. Of those, 47% reported using the Internet to deliver these courses.
And online education is clearly destined to grow. The National Education Technology Plan for the U.S. Department of Education cites "explosive growth" in the availability of online instruction and virtual schools. "The technology that has so dramatically changed the world outside our schools is now changing the learning and teaching environment within them."
*This article contains findings from the 37th Annual Phi Delta Kappa/Gallup Poll of the Public's Attitudes Toward the Public Schools, released on Aug. 23 in Washington, D.C.
The findings of the survey are based on telephone interviews with a random sample of 1,000 U.S. adults, aged 18 and older, conducted from June 9 to June 26, 2005. For results based on this sample, one can say with 95% confidence that the maximum error attributable to sampling and other random effects is ±3 percentage points.