Service differences not that obvious to consumers
With Black Friday and Cyber Monday crossed off retailers' calendars, the holiday shopping season is officially underway. Although initial sales reports were mixed, general and discount retailers seem to have more reason to be of good cheer than other retailers do.
A mid-September Gallup Poll Panel survey* asked respondents about their retail shopping habits and preferences -- the types of stores they made purchases at, what they bought, and how much money they spent. Their responses paralleled some of the Thanksgiving weekend purchasing behaviors, as more panelists said they had made purchases at general merchandise retailers, discount stores, and department stores than at specialty apparel retailers.
Twenty-two percent of respondents said they purchased items from a specialty apparel retailer -- such as Abercrombie & Fitch, Banana Republic, Gap, or Old Navy -- in the last 30 days. This percentage pales in comparison to the percentages of panelists who said they purchased goods from general merchandise stores such as Wal-Mart and Target (85%), from department stores such as Kohl's and JCPenney (50%), and from discount retailers such as Dollar General or TJ Maxx (41%).
Who Shops Specialty?
Though fewer respondents said they made purchases at specialty apparel retailers in the last 30 days, cash registers are nevertheless ringing at these stores. It appears that women, people with teens at home, and those with higher incomes may be driving sales at specialty stores.
Female respondents were more likely than male respondents to say they had purchased items from a specialty apparel store in the last 30 days, 27% vs. 16%, respectively. The likelihood to have purchased from specialty apparel retailers also increased with household income. Thirty-five percent of respondents claiming more than $100,000 in annual household income said they purchased from specialty apparel stores, compared with just 11% of respondents with annual household incomes of less than $35,000.
While people in higher-income households are more likely than those in lower-income households to shop at other types of stores (such as department stores), this is not an across-the-board phenomenon. For example, those in lower-income households are more likely to shop in discount stores and general merchandise stores.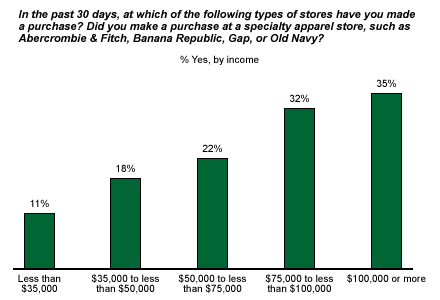 Respondents with one or more teens living in their households were more than twice as likely to have purchased from a specialty apparel store (41%), as were respondents with no teens living at home (17%).
Money, Money, Money
Specialty apparel stores do compensate for some of their lower traffic by taking in more money per customer than general merchandise stores. Respondents who purchased items from specialty apparel retailers in the last 30 days report spending an average of $123 during their most recent visit. Those who made purchases at general merchandise stores say they spent an average of $94 on their last visit, discount retailer shoppers spent an average of $63, and department store shoppers spent an average of $121.
What's So Special About Specialty Stores?
What advantages do specialty apparel stores have over other retailers who are vying for consumer dollars? Not price, typically, as discount and value retailers and some general merchandise stores generally offer lower price points than do specialty apparel stores.
Could the smaller store fronts and higher employee-to-shopper ratios give specialty apparel retailers an advantage over department and general merchandise stores in customer service? Yes, but not as much as one might think. Using a scale of 1 to 5, with 5 meaning "strongly agree" and 1 meaning "strongly disagree," respondents were asked to rate their level of agreement with the statement, "Specialty stores offer better customer service than department and general merchandise stores." Forty-seven percent of respondents agreed, with 18% offering a "5."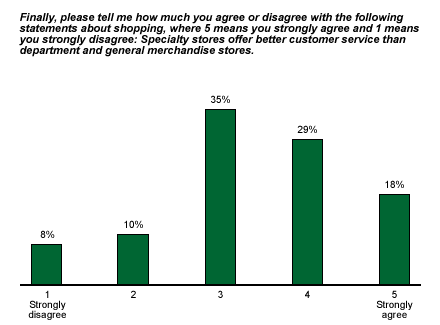 Gallup retail industry expert Kurt Deneen thinks respondents' relatively low opinions of specialty store customer service offers retailers a great opportunity. "The in-store experience is critical," Deneen says. "Aside from product and store appearance, service is the biggest differentiator for specialty retailers. To win this holiday season, they must win on product offering and service."
*These results are based on interviews with a sample of 1,043 adults in the Gallup Poll Panel survey of households, conducted Sept. 10 to Sept. 22, 2005. For results based on this sample, one can say with 95% confidence that the maximum error attributable to sampling and other random effects is ±3 percentage points. In addition to sampling error, question wording and practical difficulties in conducting surveys can introduce error or bias into the findings of public opinion polls.