But margin has declined in past two months
GALLUP NEWS SERVICE
PRINCETON, NJ -- In his radio address to the nation last Saturday, President Bush said that conservation was a key element in his administration's energy strategy, which will be presented to the public this week. A Gallup poll conducted May 7-9 shows that the president's new emphasis on conservation is likely to appeal to the public. Americans express widespread support for several measures to deal with the current energy situation, including both new production and conservation initiatives, but when asked to make a trade-off between the two approaches, more Americans choose conservation than new production. Still, the margin in favor of conservation has declined by half over the past two months.
The poll also shows that while there is much support for steps to mandate more energy efficient products -- like appliances, cars and buildings -- there is less support for additional investments in some of the infrastructures that would be needed to produce more power. Also, Americans are divided over whether to increase the use of nuclear power, and they remain opposed to opening up the Arctic National Wildlife Refuge for oil exploration.
According to the poll, 35% of Americans favor an emphasis on the production of more oil, gas, and coal supplies as a way to solve the nation's energy problems, while 47% favor emphasizing more conservation. An additional 14% volunteer that they would like an emphasis on both approaches.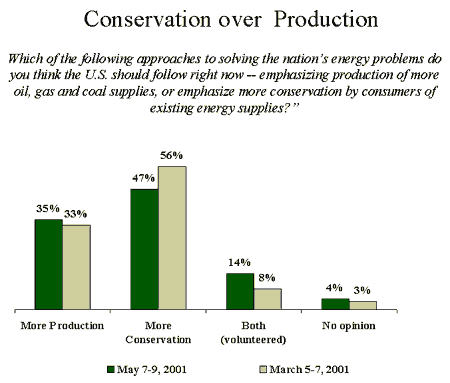 The public's support for more conservation has declined somewhat in the past two months, perhaps in response to the increasing price of gasoline, as well as news reports about the nation's energy problems. Support for more production, however, has remained essentially the same. Thus, the net support in favor of conservation is now at 12 percentage points (47% to 35%), down from 23 points last March (56% to 33%).
Americans Support Variety of Measures to Deal With Energy Problems
Among 11 approaches to deal with the country's energy problems that are covered in the poll, Americans are most supportive of the general concept of investing in new sources of energy, such as solar, wind and fuel cells -- 91% favor this. Almost as strong is the support for mandating more energy efficient appliances (87%), buildings (86%), and cars (85%). A government partnership with the auto industry, in order to manufacture more efficient cars, is favored by 76% of the public.
While Americans also favor investing in new power generating plants (84%), support for investing in more electrical transmission lines (69%) and more gas pipelines (64%) is considerably lower, as is support for drilling for natural gas on federal lands (63%). Americans are about evenly divided over increasing the use of nuclear power, as 48% favor and 44% oppose that proposal. And Americans remain opposed to drilling in the Arctic National Wildlife Refuge, with 57% against it and 38% in favor. In March, the numbers also showed net opposition, by 56% to 40%.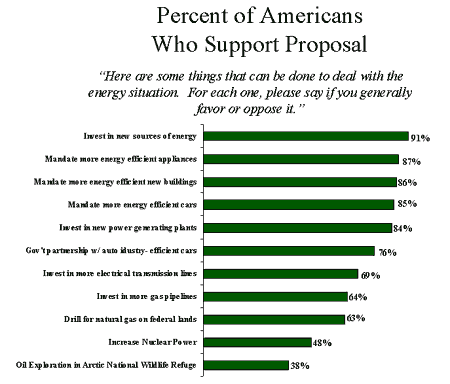 Proposals Show Partisan Responses
In general, Republicans are more supportive than Democrats of investing additional money in current energy sources, while Democrats are more supportive than Republicans of investing in new sources of energy and conserving energy in general. Most of the differences between Republicans and Democrats, however, are less than 10 percentage points.
The most partisan response is found on President Bush's proposal to open up the Arctic National Wildlife Refuge for oil exploration. As shown in the chart below, Republicans support the measure by more than 10 percentage points (54% to 43%), while Democrats oppose it by 38 percentage points (65% oppose, 27% in favor). Independents also oppose the measure, by 62% to 33%.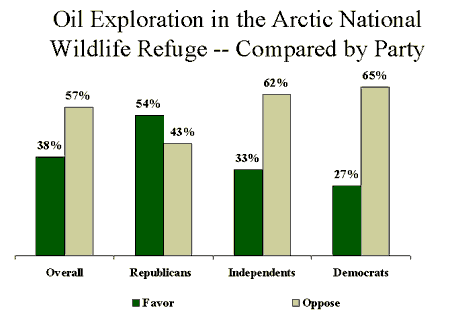 There are also large differences between members of the two major parties, of at least 20 percentage points, on the proposals to invest more in gas pipelines (76% of Republicans support this, compared with 54% of Democrats) and to drill for natural gas on federal lands (75% to 55%). Nuclear power also elicits major partisan differences, as Republicans support it, by 59% to 34%, while Democrats are divided on the issue (46% against, 45% in favor), and independents are against it, by 51% to 42%.
SurveyMethods
Results are based on telephone interviews with 1,005 national adults, aged 18+, conducted May 7-9, 2001. For results based on the total sample of national adults, one can say with 95% confidence that the margin of sampling error is +/- 3 percentage points. In addition to sampling error, question wording and practical difficulties in conducting surveys can introduce error or bias into the findings of public opinion polls.