Sixty-nine percent do not plan to watch any of it on television
GALLUP NEWS SERVICE
PRINCETON, NJ -- The month-long FIFA® World Cup soccer tournament is one of the top international sporting events. However, Americans have never demonstrated much interest in the World Cup, and 2006 is no exception. Only about one in three Americans say they plan to watch any of the World Cup on television. Viewing intentions are up slightly from where they were for the last World Cup in 2002, but significantly lower than the recent high in 1994. Younger Americans, non-whites, urban residents, and college grads are among the groups most likely to show interest in the World Cup.
A June 9-11 USA Today/Gallup poll, conducted during the tournament's first weekend, finds 31% of Americans saying they plan to watch at least some of the World Cup on television, including 9% who say they will watch "as much as possible." Sixty-nine percent do not plan to watch any of it.
Gallup asked the same question prior to other World Cups, including the 1990, 1994, and 2002 tournaments. The current poll figures on viewer interest are slightly higher than they were in 1990 and 2002, when 26% and 27% of Americans, respectively, said they planned to watch World Cup games. Initial U.S. television ratings for the World Cup are higher than they were at similar points in 2002, confirming greater interest than four years ago.
Higher interest would make sense from the standpoint that the United States team entered the World Cup ranked fifth in the world soccer rankings, and its quarterfinal finish in 2002 was the best in over 70 years. Still, the poll data make clear that World Cup fever is far from sweeping the United States.
Americans were much more enthusiastic about the World Cup in 1994 -- when the United States hosted the event. That year, 38% of Americans planned to watch at least some of it.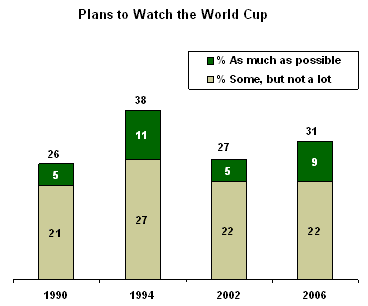 The current poll finds that just 19% of Americans identify themselves as fans of "professional or college soccer." The vast majority of these soccer fans plan to watch the World Cup -- 73% say they will watch some of it, including 33% who will watch as much as possible.
World Cup interest varies by age, race, place of residence, and education.
Thirty-four percent of adults under age 50 plan to watch some of the event, compared with 26% of those age 50 and older.
Forty-three percent of non-whites intend to watch at least some of the World Cup, compared with 28% of whites.
Urban residents (39%) are significantly more likely to express an interest in watching the tournament than suburban (30%) or rural (24%) residents.
Thirty-nine percent of college graduates plan to watch, compared with 28% of Americans without a college degree.
Survey Methods
These results are based on telephone interviews with a randomly selected national sample of 1,002 adults, aged 18 and older, conducted June 9-11. For results based on this sample, one can say with 95% confidence that the maximum error attributable to sampling and other random effects is ±3 percentage points. In addition to sampling error, question wording and practical difficulties in conducting surveys can introduce error or bias into the findings of public opinion polls.
For results based on the sample of 191 professional or college soccer fans, the maximum margin of sampling error is ±8 percentage points.
As you may know, the World Cup soccer tournament -- which is played every four years -- begins this weekend. How much of the World Cup matches do you plan to watch on television -- as much as possible, some, but not a lot, or none at all?
As much
as possible

Some, but
not a lot


None at all

No
opinion

National Adults

%

%

%

%

2006 Jun 9-11

9

22

69

*

2002 May 28-29

5

22

72

1

1994 Jun 3-6

11

27

61

1

1990 Apr 6-18

5

21

62

12

Soccer Fans

2006 Jun 9-11

33

40

26

--

* Less than 0.5%