Views of Catholics similar to the public's as a whole
GALLUP NEWS SERVICE
PRINCETON, NJ -- Americans generally believe the Roman Catholic pontiff, Pope Benedict XVI, has apologized all he needs to for his reference to an historical critique of Islam as "evil," "inhuman," and overly reliant on force in spreading its theology. The reference was part of a speech to an academic audience in Germany on Sept. 12, and set off an outcry from Muslims worldwide. Benedict has made numerous statements indicating his regret over Muslims' reaction to the speech, but has not directly apologized for using the offending quote.
Asking respondents to answer according to "what they have heard or read about the matter," a Sept. 21-24 Gallup Panel survey finds that two thirds of Americans believe Benedict has done enough to apologize to Muslims for his remarks, while 22% say he should do more. Catholics and Protestants share similar views about the controversy, both highly supportive of the Pope's position. Non Christians (including non-religious Americans) are somewhat more likely to believe he should do more to apologize.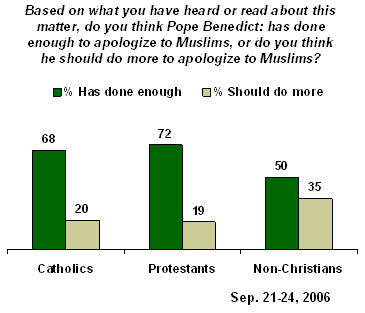 Self-described political conservatives and moderates mostly believe Benedict has offered sufficient apology, while political liberals (who are more likely than conservatives and moderates to be non-religious) are more divided in their views.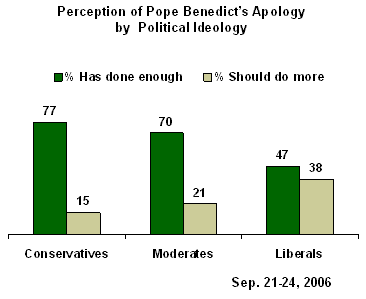 Issue Attracts Average Level of Public Attention
Attention to the controversy is fairly broad. Close to six in ten Americans (58%) say they have closely followed the news about the Pope's remarks, including 16% following it very closely and 42% somewhat closely.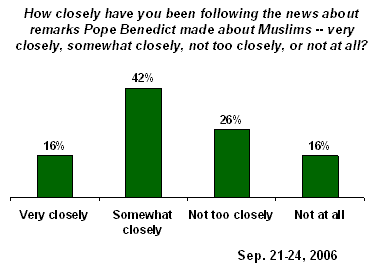 There are only minor differences in following the news item according to religious preference: 61% of Catholics and 58% of Protestants are following it closely.
Those following the Benedict story very or somewhat closely are more likely than those not following it closely to say the Pope has done enough to apologize. However, that difference is primarily due to a higher percentage of the inattentive group (22%) not having an opinion, compared with 3% of the attentive groups who offer no opinion.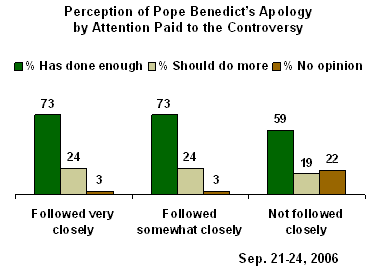 Survey Methods
Results for this panel study are based on telephone interviews with --1,010 -- national adults, aged 18+, conducted September 21-24, 2006. Respondents were randomly drawn from Gallup's nationally representative household panel, which was originally recruited through random selection methods. For results based on the total sample of National Adults, one can say with 95% confidence that the margin of sampling error is ±3 percentage points.
How closely have you been following the news about remarks Pope Benedict made about Muslims - very closely, somewhat closely, not too closely, or not at all?
Very
closely

Somewhat closely

Not too closely

Not
at all

No
opinion

%

%

%

%

%

2006 Sep 21-24

16

42

26

16

*
Based on what you have heard or read about this matter, do you think Pope Benedict - [ROTATED: has done enough to apologize to Muslims, (or do you think he) should do more to apologize to Muslims]?
| | | | |
| --- | --- | --- | --- |
| | Done enough | Should do more | No opinion |
| | % | % | % |
| 2006 Sep 21-24 | 67 | 22 | 11 |