Brazilians display marked lack of confidence in country's basic institutions
Part of a series examining the public opinion environment surrounding each of the closely watched presidential elections being held throughout Latin America in 2006.
GALLUP NEWS SERVICE
The surprise delivered by Brazilian voters on Oct. 1 -- when they forced President Luiz Inacio Lula da Silva into a runoff election against his closest challenger, former Sao Paulo state governor Geraldo Alckmin -- has faded, as apparently have Alckmin's chances to pull off an upset victory. Brazilian polls have reported a surge by Lula since the first-round vote; he appears to enjoy a comfortable lead heading into Sunday's runoff.
If Brazilians indeed vote to keep Lula in office Sunday, he will be challenged to fulfill the promises of job creation and economic growth that originally won him the presidency. Brazil, with its vast natural resources and a population approaching 200 million, has seen only anemic growth over the last 15 years, even as the economies of other large developing countries have taken off. A Gallup World Poll conducted in late 2005 showed that just 31% of Brazilians said they were satisfied with efforts to increase the number and quality of jobs in the country.
World Poll data also suggest that Brazil's next president would do well to stay focused on improving two key barriers to development: his constituents' fear of crime, and their cynicism regarding the country's business and political environments.
Fear of crime. For many Brazilians who dream of a more stable society, the country's ongoing struggle with violent crime is the most obvious obstacle. Almost four in five Brazilians (79%) say they live in fear that they or someone they love might be physically harmed. Just 41% say they feel safe walking alone at night in their communities; that figure drops to 27% among urban dwellers.



Waves of gang violence in Sao Paulo state beginning in May resulted in the deaths of 200 people and appeared to weaken Alckmin's campaign. The attacks resonated with Brazilians' perceptions that law enforcement in the country is weak and/or corrupt. A majority of Brazilians (57%) say they have no confidence in their local police force, a perception that probably worked more to Alckmin's disadvantage than to Lula's.


Lack of confidence in fundamental institutions. Brazilians lack faith in the basic building blocks of society: just 34% say they have confidence in their national government, 37% say the same about the country's courts and judicial system, and 38% about its financial institutions and banks.

What's worse, most Brazilians feel corruption is widespread in the country's businesses (72%) and government (72%). Views of corruption in government surely would not have been helped by a scandal that broke just a few weeks before the first-round vote on Oct. 1, in which members of Lula's campaign team were implicated in attempting to smear opposition candidates illegally. Most of those involved have since resigned or were fired, but the incident was seen as a significant factor in the campaign stumble that forced this weekend's runoff.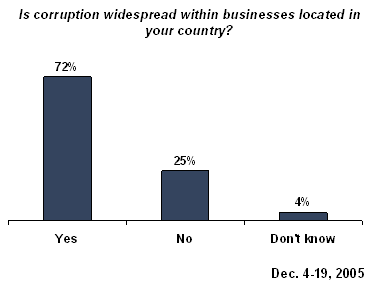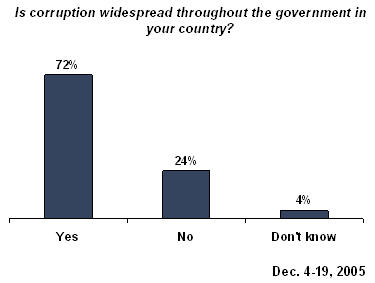 Challenges facing Brazil's next president
Lula is well aware of Brazilians' insecurity regarding the country's capacity to promote social and economic justice. Throughout his campaign, he cited as his two main achievements progress toward fiscal responsibility and strong social policy. If he is given a second term, he will have to demonstrate that progress, particularly by reducing street crime and making Brazil a safer country for conducting business.
Many Brazilians who are considering starting small businesses -- the kind that represent the lion's share of economic activity in many developing countries -- face the prospect not only that the government could arbitrarily treat them unfairly, but also that larger companies will be able to take advantage of the weak enforcement environment to drive them out of business. Just 24% of Brazilians believe aspiring business owners can feel very confident that commercial rules and laws will not change all the time. Only about a third (35%) say aspiring business owners can trust that their assets and property will be safe at all times. A similar proportion (32%) feel these owners could trust the government to let their businesses make a lot of money.
Brazil is poised to make a big leap forward, both in terms of its domestic standard of living and its status as a global economic force. However, to do that it will need to engage a far greater share of the people in constructing their own future. That goal is unlikely to be accomplished until Brazilians feel safer and more confident that they can take chances without risking too much.
Survey Methods
These results are based on face-to-face interviews with a randomly selected national sample of 1,029 Brazilians, aged 15 and older, conducted Dec. 4-19, 2005. For results based on this sample, one can say with 95% confidence that the approximate error attributable to sampling, weighting, and other random effects is ±3 percentage points for a percentage at 50%. In addition to sampling error, question wording and practical difficulties in conducting surveys can introduce error or bias into the findings of public opinion polls.