Republicans and Democrats give vastly different ratings of nation's economy
GALLUP NEWS SERVICE
PRINCETON, NJ -- This week brought the unwelcome economic news that the nation's gross domestic product growth slowed to 1.6% in the third quarter of 2006, the weakest level in three years. Prior to that, one might have argued that the Republicans could have used low inflation, the bull stock market, steady economic growth, and robust consumer spending to turn the economy into a winning issue for the GOP during the current midterm election cycle. Nevertheless, Gallup's monthly findings on Americans' economic moods have been lackluster all year, and despite some slight improvement since the summer, the latest news virtually insures the measures will stay that way.
According to the latest Gallup economic poll, conducted Oct. 20-22, less than half of Americans (44%) consider economic conditions today to be "excellent" or "good," while 33% call them "only fair" and 22% say they are "poor." Similarly, by a 13-point margin, 54% to 41%, Americans believe economic conditions are getting worse rather than improving. Gallup obtained these results just before the latest economic report.
Behind the national consumer confidence numbers, Gallup finds strong partisan differences in economic views that help to explain the dearth of positive economic ratings seen for much of the past six years. About 7 in 10 Republicans currently say economic conditions are excellent or good, compared with only 39% of independents and 28% of Democrats. Nearly three-quarters of Republicans (73%) say the economy is getting better, but 56% of independents and 75% of Democrats say it is getting worse.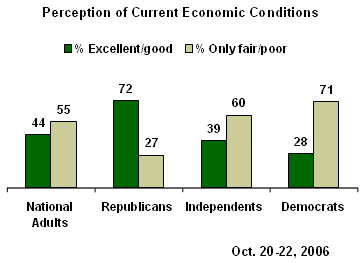 As Gallup has observed with respect to other measures of the public's mood -- such as satisfaction with the nation as a whole -- Americans of the same political party as the sitting president tend to have a rosier view of conditions than those who are members of the opposing political party. Whether that phenomenon reflects real differences in perceptions about the economy or mere political shading of survey answers to either buttress or harm the president's reputation is not clear. In any case, current optimism about the nation's economy is robust among Republicans while it is highly jaded among independents and Democrats. It has been this way practically from the start of George W. Bush's presidency in January 2001.
Bush's first inauguration coincided with news reports about slowing economic growth, and as a result Bush's ratings on the economy immediately declined among all three political groups within his first few months in office. This continued for about the first three years of his presidency. Then, toward the end of 2003, Republicans' economic ratings started to improve on the news of strong economic growth, while Democrats' ratings remained highly negative. Republican economic confidence is now back to where it stood in January 2001, while Democratic confidence remains well below that baseline.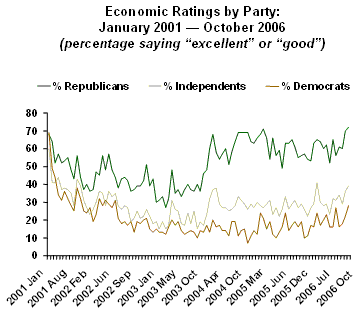 Partisan gaps in ratings of the economy are not new under Bush's administration. Gallup saw this pattern during Bill Clinton's presidency, as well. However, in the last several months of Clinton's term, Republicans were nearly as positive as Democrats about the nation's economy. For example, in an August 2000 poll, 81% of Democrats, as well as 70% of Republicans and 71% of independents, rated economic conditions as excellent or good.
Not only did the public perceive the economy as strong at that time, but the U.S. budget deficit was running a record surplus and there were no major domestic or international crises to sour the public's mood more generally. In the absence of such negative hooks to hang their hats on, Republicans could only acknowledge the positive state of the economy.
Today, there are perhaps enough ambiguities about the national economy -- the softening of the housing market, still-inflated gas prices, wage stagnation, the federal budget deficit, and now a slowing GDP -- that Democrats may have less difficulty finding reasons to be critical of it under Bush.
Doug Johnson of Canaccord Adams in Boston is quoted in the New York Times this week as saying that there are contrasting data as to the current state of the economy. "There are a lot of warning signs, but if it were glaringly obvious, everyone would be on it," he said. With that, Republicans can continue to focus on the positive, Democrats can focus on the negative, and consumer confidence will continue to be a disjointed measure of political reactions toward the Bush White House.
Survey Methods
These results are based on telephone interviews with a randomly selected national sample of 1,002 adults, aged 18 and older, conducted Oct. 20-22, 2006. For results based on this sample, one can say with 95% confidence that the maximum error attributable to sampling and other random effects is ±3 percentage points. In addition to sampling error, question wording and practical difficulties in conducting surveys can introduce error or bias into the findings of public opinion polls.