Gap between "haves" and "have-nots" apparent as Vietnam joins WTO
GALLUP NEWS SERVICE
PRINCETON--Today, the General Council of the World Trade Organization (WTO) will vote on Vietnam's accession into the global trade group, an event toward which Vietnamese officials have been working for 11 years. If its entry is approved as expected, the accomplishment will reflect the nation's transformation through progressive and at times austere economic reforms -- from a country on the brink of famine to one that boasts an economic growth rate second only to China's in the continent.
Vietnam's development, though remarkable for its success in reducing poverty overall, has been accompanied by a widening of the gap between the country's "haves" and "have-nots." Measures taken by the government to speed growth, such as forced evictions from land deemed lucrative for foreign investment, have exacerbated disparities in income distribution. A 2002 report by the National Center for Social Sciences and Humanities indicated that in half of the country's provinces, income inequality increased by 10% in the late 1990s.
As in China, development has benefited Vietnam's city dwellers first and foremost. Overall, 26% of Vietnamese are urban residents, while 74% live in rural areas or small towns.
Gallup World Poll results from Vietnam reveal a significant divide between the country's urban and rural populations when it comes to satisfaction with economic conditions:
While roughly three-quarters of urban Vietnamese (73%) are satisfied with the amount and quality of food available to them, only 62% of the rural population feels the same way. Forty-two percent of urban Vietnamese say they are happy with their household income, but this percentage drops to 32% among rural residents. Both urban (100%) and rural (95%) Vietnamese say they have electricity in their homes. However, urbanites (94%) are much more likely to have running water in their homes than rural residents (44%).
In light of forced evictions, a stark contrast between urban and rural living is evident: 60% of urbanites say they feel secure from such evictions, while only 31% of those in rural areas say the same, and a similar number (29%) say they are unsure of their fate.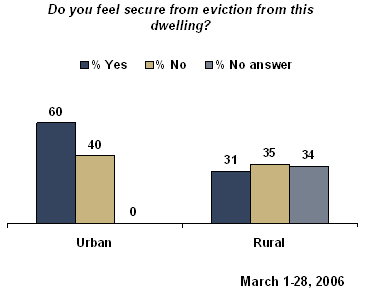 The United Nations Development Programme states that although many Vietnamese have been lifted out of poverty, they teeter on the line and could easily fall back into such deprivation. The perceptions of rural Vietnamese echo that cautionary note, warning of possible instability created by shock therapy reforms that fail to take into account the wellbeing of the nation's poorest.
Survey Methods
These results are based on face-to-face interviews with a randomly selected national sample of 1,023 Vietnamese, aged 15 and older, conducted March 1-March 28, 2006. For results based on this sample, one can say with 95% confidence that the approximate error attributable to sampling and other random effects is ±3 percentage points for a percentage at 50%. In addition to sampling error, question wording and practical difficulties in conducting surveys can introduce error or bias into the findings of public opinion polls.