Four in 10 plan to start a business in the coming year
GALLUP NEWS SERVICE
PRINCETON, NJ -- Microfinancing has become a buzzword among development agencies that are seeking to promote growth in Africa -- and more recently, also among large-scale lenders that have realized such small-scale loans are viable commercial opportunities. But how do Africans themselves perceive these opportunities? The confidence of potential creditors is important, but unless potential entrepreneurs feel they have a chance to be successful, their ideas and energy remain just that.
Gallup World Poll respondents across 19 countries in sub-Saharan Africa appear generally optimistic about their chances for success, despite perceived obstacles. When asked, "Is the city or area where you live a good place or not a good place to live for entrepreneurs forming new businesses?", 65% Africans overall say it is a good place, 26% say it is not a good place and 9% are undecided. 
What's more, 42% of sub-Saharan Africans in these 19 countries indicated that they are planning to start a business in the next 12 months.
Percentage Planning to Start a Business in the Next 12 Months
Overall, men and women are about equally likely to say they plan to start a business: 43% of men and 41% of women do so. This balance is encouraging because women are chronically underemployed in Africa. Across the 19 sub-Saharan African countries studied, 63% of women say they do not have a job, either paid or unpaid, compared with 47% of men. A recent World Bank report, "Doing Business in 2006: Creating Jobs", found that young people and women benefit most from job creation in Africa. In June of this year, the World Bank's private-sector lender opened a $15 million line of credit to Access Bank in Nigeria to help finance businesses owned by women.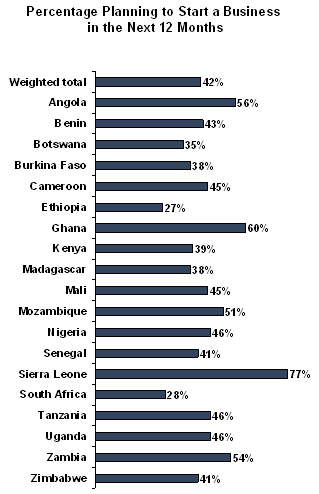 Perceptions of Key Barriers
The World Bank report also discusses the most significant barriers to starting a business in Africa, including bureaucratic concerns, such as difficulty obtaining licenses, and legal concerns, such as inadequate ability to enforce contracts and guarantee investor protection.
Across the 19 countries studied, 54% of Africans say they have confidence in the banks and financial institutions in their country, while 32% do not have confidence. However, only 17% agree that it is easy for anyone to obtain a loan to start a business, while 63% disagree.
Along with confidence in private-sector institutions, perceptions of government regulations and support play an important role in business start-ups. In response to the question, "In general, does the government make paperwork and permits easy enough for anyone who wants to start a business, or not?", just 21% of sub-Saharan Africans say the government makes things easy, while 52% say it does not.
Respondents were then asked, "If someone wants to start a business in (country name) can they feel very confident that tax laws and other rules of the game will not change all the time?" Here, 34% respond favorably, saying the government will not change the rules often, while 39% disagree.
Specific policy changes geared toward establishing greater consistency and a more business-friendly environment may help shore up potential entrepreneurs' confidence in their governments. But it will be an uphill battle in most countries, given how likely Africans are to perceive rampant government corruption. Overall, 73% of Africans say corruption is widespread in their government; that number rises to 76% among those Africans who say they plan to start a business in the next 12 months.
Survey Methods
Results are based on face-to-face interviews with randomly selected national samples of approximately 1,000 adults, aged 15 and older, who live permanently in the 19 African nations surveyed. For results based on these samples, one can say with 95% confidence that the maximum error attributable to sampling and other random effects is ±3 percentage points. In addition to sampling error, question wording and practical difficulties in conducting surveys can introduce error or bias into the findings of public opinion polls.