U.S.-trained technocrat raises anti-corruption, anti-U.S. banners and connects with a disillusioned populace
GALLUP NEWS SERVICE
After a decade of political instability in which seven presidents have come and gone amid coups, violent street protests, and congressional impeachments, Ecuadorians went to the polls Sunday and elected leftist technocrat Rafael Correa.
Before the election, Ecuadorians had grown apathetic and disillusioned with a political establishment that has chronically failed to contain the country's widespread poverty and inequity. A Gallup World Poll conducted last May indicates that the overwhelming majority of the country's residents, 92%, believe corruption is widespread in their government. (The average across all 18 Latin American countries* studied is significantly lower, at 71%.) Similarly, just 12% of Ecuadorians say they have confidence in the country's national government.
Correa, a new face in Ecuadorian politics, appealed to that disillusionment, placing corruption eradication at the core of his electoral campaign. As recently as October, the Ecuadorian electorate appeared fragmented and the race unpredictable. The election's first round on October 15 resulted in a technical tie that forced Sunday's run-off between Correa and populist banana magnate Alvaro Noboa. However, Correa appears to have won the run-off handily, with well over 50% of the vote by early estimates.
Key Issues
Most fundamentally, Ecuadorians are looking for a way out of poverty. They are significantly less satisfied than neighboring populations in Latin America with regard to their government's efforts to deal with the poor -- just 19% say they are satisfied in Ecuador, compared with an average of 35% for all Latin American countries. Similarly, only 17% of Ecuadorians say they are satisfied with efforts to increase the number and quality of jobs in the country.
Correa's nationalist and openly anti-U.S. stance may have also helped him connect with the populace. Correa has indicated he will not renew the contract whereby the United States maintains anti-drug operations at a military base in the port city of Manta. What's more, he has made no secret of his admiration for Venezuelan President Hugo Chavez, and that he shares Chavez's contempt for U.S. President George W. Bush. Chavez is relatively well-liked in Ecuador -- 35% of the people say they approve of Venezuela's leadership, compared to 22% of residents across all Latin American countries. By contrast, only 26% of Ecuadorians say they approve of the leadership in the United States, a figure that is similar to the regional result of 24%.
Correa is also opposed to continuing negotiations for a free trade agreement with the United States. Ecuadorians who indicated that they were aware of the initiative were asked whether they supported it. Just 30% did so, vs. an average of 42% for all Latin American countries.**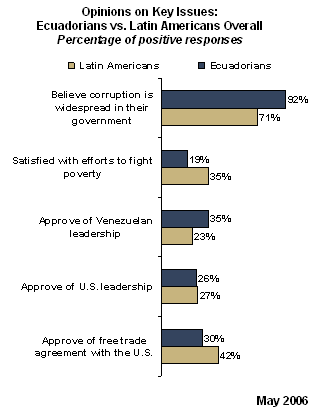 These poll results reflect important aspects of the dynamics driving political outcomes in a region where Chavez has launched a campaign to weaken U.S. influence. But perhaps more importantly, they demonstrate why Correa was able to strike a chord with the Ecuadorian people: Impoverished Latin Americans are growing increasingly averse to their countries' political establishment and are willing to embrace outsiders who connect with their aspirations for social justice, challenge the status quo, and break with the leadership of the past.
Survey Methods
Results are based on in-person interviews with 1,067 Ecuadorian adults, aged 15 and older, conducted in May 2006. For results based on the total sample of national adults, one can say with 95% confidence that the maximum margin of sampling error is ±3 percentage points. In addition to sampling error, question wording and practical difficulties in conducting surveys can introduce error or bias into the findings of public opinion polls.
* The 18 Latin American countries surveyed include Argentina, Bolivia, Brazil, Chile, Colombia, Costa Rica, the Dominican Republic, Ecuador, El Salvador, Guatemala, Honduras, Mexico, Nicaragua, Panama, Paraguay, Peru, Uruguay, and Venezuela.
** This comparison figure is based on opinions in 18 Latin American countries about the free-trade agreement initiatives led by the United States that are applicable to the respective country. Costa Ricans, Hondurans, Guatemalans, El Salvadorans, Nicaraguans, and Dominicans were asked about the DR-CAFTA; Brazilians, Mexicans, Venezuelans, Uruguayans, Paraguayans, Argentines, Chileans, and Bolivians were asked their opinions about the FTAA; and Colombians, Panamanians, Ecuadorians, and Peruvians were asked their opinions about their existing (or proposed) bilateral free trade agreements with the United States. All these treaties have in common the fact that they are U.S.-led trade liberalization initiatives and, therefore, are believed to generate comparable reactions and attitudes across Latin America.