Democracy in the predominantly Muslim country hangs in the balance
GALLUP NEWS SERVICE
PRINCETON, NJ -- Monday would have been Election Day in Bangladesh, but when Bangladeshis will actually head to the polls remains uncertain. Nearly two weeks have passed since elections were postponed amid violent protests, blockades, and a boycott by opposition party supporters demanding election reform. The events are yet another troubling chapter in Bangladesh's tumultuous election history since the predominantly Muslim country returned to parliamentary democracy in 1991.
The country's two main parties, the Awami League and the Bangladesh Nationalist Party, are bitter rivals. Each has contested or boycotted previous elections or walked out of parliament afterward. The Awami League and its multiparty alliance -- after accusing the caretaker government of rigging the election in the BNP's favor -- boycotted the January election and sponsored the recent unrest.
This election track record may help explain why, in a May 2006 Gallup World Poll of Bangladesh, only 44% of Bangladeshis say they have confidence in the honesty of elections. This is the only aspect of national leadership in which less than a majority of Bangladeshis express confidence; despite the ongoing political turbulence, 61% said they have confidence in their national government. However, even though confidence in elections seems low in comparison with confidence in other institutions, it is on par with, if not higher than, percentages in neighboring South Asian countries such as India (40%), Pakistan (38%), and Sri Lanka (22%).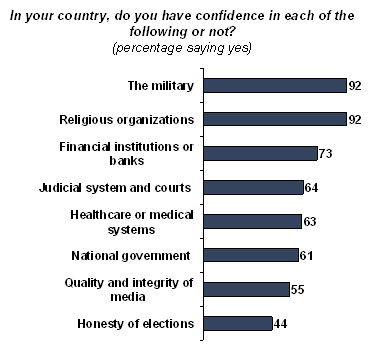 With thousands of Bangladeshis taking to the streets over the past few months to protest the possibility of unfair elections, it may seem surprising that just a third say having a democratically elected government is essential and something they cannot live without. However, an additional 56% say this aspect is very important to them. Having a government that governs wisely is somewhat more crucial to Bangladeshis: 40% say this is essential and 51% say it is very important.
Survey Methods
Results are based on face-to-face interviews with a representative sample of 1,048 residents of Bangladesh, aged 15 and older, conducted in May 2006. For results based on this sample, one can say with 95% confidence that the maximum error attributable to sampling, weighting, and other random effects is ±3 percentage points. In addition to sampling error, question wording and practical difficulties in conducting surveys can introduce error or bias into the findings of public opinion polls.