Educational attainment spurs workforce participation by women in the UAE
GALLUP NEWS SERVICE
PRINCETON, NJ -- "Women have embraced education with particular fervor and are outperforming men at every educational level. This enthusiasm for education ensures that women can exercise their right to participate in the labor market and in the decision-making process."
This quote would seem at home in any number of Western feminist publications. But it comes, in fact, from the United Arab Emirates Yearbook 2007, an official publication from the government of the United Arab Emirates.
The report goes on to state that "the UAE is singular in registering the highest rate of females in higher education in the entire world. … Ninety-five percent of females … who are enrolled in the final year of secondary school apply for admission to a higher education institution or to study abroad." At the country's leading university, 79% of the nearly 15,000 students are women.
The challenge, the report claims, lies in translating Emirati women's educational accomplishments into employment. However, the country's workplaces have also seen a remarkable degree of change in recent decades. Women now account for two-thirds of all government sector employees, including many of those in senior decision-making positions. And, over a third of UAE's education (40%), financial services (38%), and healthcare (35%) workers are women.
However, some companies continue to restrict the number of females they employ. As the yearbook's Social Development section reports, "UAE society is patriarchal and the changing of traditional views concerning a woman's place in the family is a slow process."
So what are Emiratis' current attitudes toward women who are employed outside the home? How do they differ between men and women in the UAE?
Gallup asked a representative nationwide sample of all Emirati nationals whether or not they agreed that "women should be allowed to hold any job for which they are qualified." An overwhelming majority -- 82% -- agreed with this proposition while just one in seven disagreed. Interestingly, Emirati men were almost as supportive of this notion as Emirati women (79% vs. 87%, respectively). Perhaps even more surprising is that there was no discernable difference by age -- those over the age of 35 were virtually as likely to express support for this notion as their younger compatriots.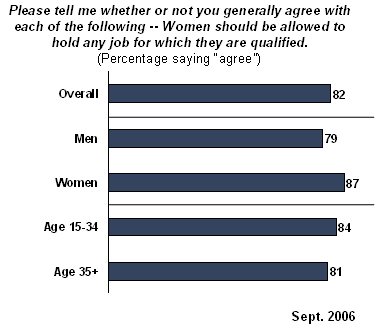 Gallup's survey also tested a more radical proposition -- that "women should be able to hold leadership positions in the cabinet and national council." Two-thirds (66%) of all Emirati nationals expressed agreement with this idea while only about one in four (25%) said they opposed it. Here again, Emirati men were nearly as supportive of this idea (59%) as women (69%), and older Emiratis were nearly as likely as younger ones to endorse this contention.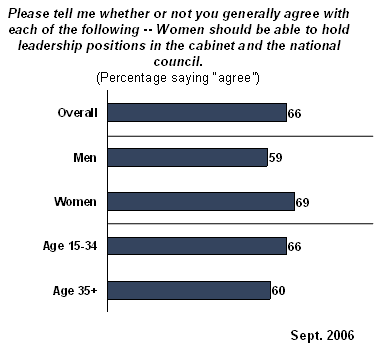 Survey Methods
Results are based on face-to-face interviews conducted in September 2006 with a randomly selected national sample of 494 UAE nationals, aged 18 and older. For results based on these samples, one can say with 95% confidence that the maximum margin of error attributable to sampling and other random effects is ±5 percentage points. In addition to sampling error, question wording and practical difficulties in conducting surveys can introduce error or bias into the findings of public opinion polls.