GALLUP NEWS SERVICE
PRINCETON, NJ -- Estonia's new center-right government inherited one of the fastest-growing economies in the European Union when it was sworn in last week. But the new Estonian government, which The Economist recently called the "least bad" in Eastern Europe, also inherited a host of unresolved issues relating to its Soviet past.
Earlier this year, plans were approved to relocate a memorial honoring Soviet World War II heroes from the heart of Estonia's capital, Tallinn. The memorial has been a concern for some anti-Russian nationalists and others who see it as a symbol of Soviet occupation, but its pending removal rankles Estonia's ethnic Russian minority and Russian officials in Moscow. Russian Deputy Prime Minister Sergei Ivanov recently called the move "state-sponsored vandalism" and urged an unofficial boycott of Estonian products and travel.
Estonia's 345,000 ethnic Russians are often caught in the middle when it comes to conflicting interests between Estonia and Russia. Compounding the tension is that Russians in Estonia have limited linguistic and citizenship rights. However, a 2006 Gallup Poll found that Russians living in Estonia are more enthusiastic than ethnic Estonians about the rapidly growing Estonian economy. The former are more likely to say current economic conditions in the country are good -- 59% vs. 47%, respectively.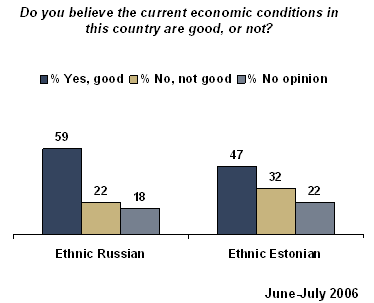 Russians in Estonia are not only positive about economic conditions; they also appear more eager to participate in the national economy. Nearly a third (32%) of ethnic Russians say they have thought about starting their own businesses, while 18% of ethnic Estonians say they have considered this.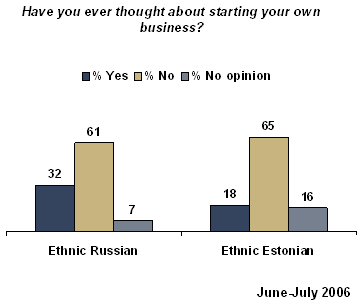 However, negative feelings about Estonia's minority groups accompany Russians' economic optimism. Half (50%) of Russians in Estonia say they are dissatisfied with the country's efforts to reduce prejudice, compared with less than a third (29%) of ethnic Estonians. However, a plurality of ethnic Estonians (48%) do not offer an opinion on the matter.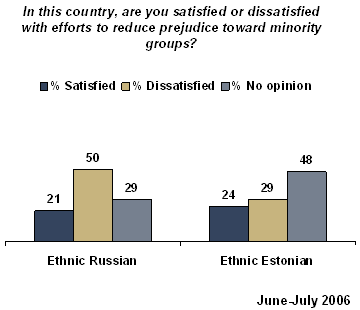 Survey Methods 
Results are based on face-to-face interviews conducted during late June and mid-July 2006 with a randomly selected sample of 1,003 Estonian residents, aged 15 and older. For results based on the total sample, one can say with 95% confidence that the maximum error attributable to sampling and other random effects is ±3 percentage points.
For results based on the sample of ethnic Russians in Estonia -- 268 adults -- the maximum margin of sampling error is ±6.6 percentage points. For results based on the sample of ethnic Estonians -- 675 adults -- the maximum margin of sampling error is ±4 percentage points. In addition to sampling error, question wording and practical difficulties in conducting surveys can introduce error or bias into the findings of public opinion polls.