Lack of confidence may underpin strong pessimism about Ukraine's future
GALLUP NEWS SERVICE
PRINCETON, NJ -- The political standoff between Ukrainian president Viktor Yushchenko and Prime Minister Viktor Yanukovich is taking place amid an existing elevated level of pessimism among Ukrainians about the country's future. When Gallup asked Ukrainians to place the country's position five years from now on the 11-point Cantril Self-Anchoring Striving Scale, the average predicted rating was just under 5 -- the lowest of any former Soviet republic. Ukrainians were just as likely to pick one of the bottom three steps as they were one of the top four. In neighboring Russia, by contrast, those choosing an upper rung on the hypothetical ladder outnumbered those choosing a lower rung by more than 3 to 1.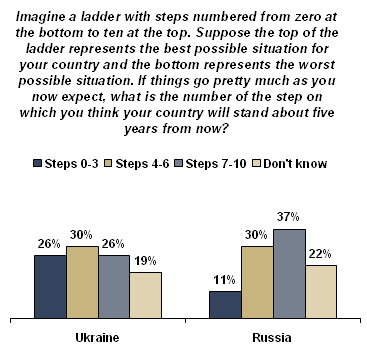 What's behind the particularly dim view of Ukraine's future? Certainly, the country is not in strong economic shape, but that's true of most former Soviet states struggling to adopt market-oriented reforms. Ukrainians are not significantly more likely than Russians to say they are dissatisfied with their standard of living (69% of Ukrainians do so, vs. 67% of Russians), or that economic conditions in their area are not good (49% of Ukrainians do so, vs. 48% of Russians).
What's more, the two populations respond to most questions regarding basic infrastructure similarly, including satisfaction with their country's education system (Ukraine, 45%; Russia, 45%), and satisfaction with the availability of quality healthcare in the country (Ukraine, 27%; Russia, 27%).
Ukraine's current political instability offers a clue as to what is perhaps the most likely factor underlying its people's unusually strong pessimism: lack of faith in their leadership. Just 15% of Ukrainians say they have confidence in their national government, while nearly 7 in 10 (69%) say they do not. By comparison, 37% of Russians say they are confident in their own government, while half (50%) are not.
In fact, Ukrainians are actually considerably more likely to say they approve of Russia 's leadership than to say they approve of their own -- 45% vs. 26%, respectively. Half of Ukrainians (51%) disapprove of their own country's leadership -- about the same percentage as those who disapprove of the leadership of the United States, which is currently very unpopular throughout Europe.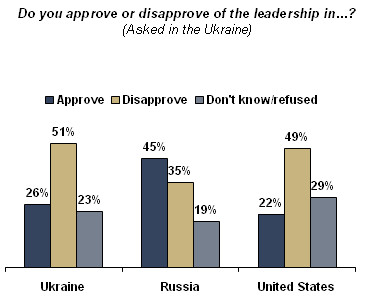 Survey Methods
Results are based on face-to-face interviews conducted May-June 2006 with randomly selected national samples of 1,102 Ukrainians adults and 2,011 Russian adults, aged 15 and older. For results based on the Ukrainian sample, one can say with 95% confidence that the maximum error attributable to sampling and other random effects is ±3 percentage points. For results based on the Russian sample, one can say with 95% confidence that the maximum error attributable to sampling and other random effects is ±2.4 percentage points. In addition to sampling error, question wording and practical difficulties in conducting surveys can introduce error or bias into the findings of public opinion polls.