Filipinos satisfied with job creation efforts, but extremely pessimistic about economy
GALLUP NEWS SERVICE
PRINCETON, NJ -- Election-related violence ahead of Monday's midterm ballot in the Philippines may be grabbing the headlines, but concerns about poverty and the country's economic future are crucial to the rest of the story.
Some observers speculate that an opposition win on Monday -- which could set up a third impeachment attempt against President Gloria Arroyo -- could affect future economic policy. Arroyo, a trained economist, promised in her 2004 inaugural speech to create as many as 10 million jobs by 2010 and implement ambitious fiscal reforms to revitalize the struggling economy. Since then, the Philippine economy has added jobs, but unemployment and underemployment rates remain among the highest in the region. The economy also has continued to experience consecutive years of moderate growth of 5% or more for the first time in decades, buoyed significantly by remittances from millions of Filipinos abroad.
Results from Gallup's March 2006 survey of the Philippines indicate that at the time of the survey, Filipinos appeared satisfied with job creation efforts, but were extremely pessimistic about the country's current and future economic situation. Nearly 6 in 10 Filipinos (59%) said they were satisfied with efforts to increase the number and quality of jobs. However, only 32% believed economic conditions in the country were good, and just 24% said they were getting better.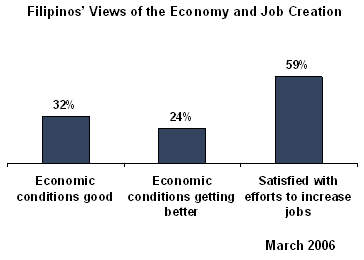 The Philippine malaise is thrown into sharp relief by comparing these results with the 88% of Vietnamese who say economic conditions in their country are improving. In the Southeast Asia region, only the economic perceptions of Indonesians are worse than those observed in the Philippines.
Rich, Poor, Hungry
The Philippine economy is characterized by wide income disparities, especially at the regional level. According to one estimate, income per head in the National Capital Region (which includes Manila) in 2004 was 11.4 times that in the poorest region, the Autonomous Region of Muslim Mindanao.* About one-third of Filipinos live below the poverty line. Overall, a majority (61%) say they are satisfied with their personal standard of living, and about half (53%) say their standard of living is getting better.
However, a majority of residents, 59%, also say there have been times in the past year when they have been unable to afford food for their families, and almost half (48%) say the same about providing adequate shelter. Nearly 3 in 10 (28%) say there have been times in the past year when they have gone hungry.
Survey Methods
Results are based on face-to-face interviews with 1,200 adults, aged 15 and older, conducted in March 2006. For results based on the total sample of national adults, one can say with 95% confidence that the maximum margin of sampling error is ±3 percentage points. In addition to sampling error, question wording and practical difficulties in conducting surveys can introduce error or bias into the findings of public opinion polls.
* Source: Country Profile: Philippines, Economist Intelligence Unit