Less than half feel Serbian government is doing everything necessary to achieve it
GALLUP NEWS SERVICE
PRINCETON, NJ -- On May 15, the Serbian parliament approved a new coalition government led by Prime Minister Vojislav Kostunica and President Boris Tadic, both moderates who would like to see their country join the European Union within the next decade. "Serbia's aspiration to become a full member of the EU is a clearly declared commitment of every party in this coalition," Kostunica told the parliament prior to confirmation.
However, Serbia's refusal to compromise on any plan for the future of Kosovo that grants independence to the breakaway province is a stumbling block on the road to EU membership. Kosovo has been administered by the UN since 1999, when NATO ousted Serbian forces that had killed 10,000 ethnic Albanian civilians in the region.
What does the Serbian public think about the EU? Despite that the EU has brokered the Ahtisaari Plan that would grant Kosovo a form of "supervised independence," 63% of Serbians living in Serbia say they have a "very positive" (24%) or "somewhat positive" (39%) opinion of the role the EU is playing in the Balkan region. A similar number, 62%, say they think Serbian membership in the EU would be a good thing. Just 9% feel it would be a bad thing.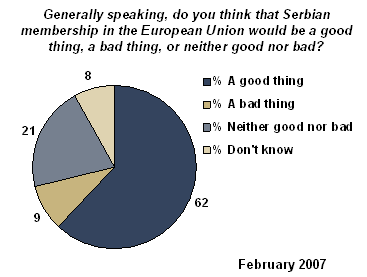 There is less consensus on whether the Serbian government is doing everything necessary to join the EU. Just under half (48%) of Serbians feel it is, while 37% say it isn't. One possible factor in these perceptions is the ongoing failure of the Serbian government to locate and arrest war crimes fugitive Ratko Mladic. In May 2006, the EU suspended talks on the first steps toward membership, declaring that negotiations would not resume until Mladic was in custody.
Survey Methods
Results are based on face-to-face interviews conducted during February 2007 with randomly selected samples of 1,566 Serbians aged 15 and older. For results based on this sample, one can say with 95% confidence that the maximum error attributable to sampling and other random effects is ±3 percentage points. In addition to sampling error, question wording and practical difficulties in conducting surveys can introduce error or bias into the findings of public opinion polls.