GALLUP NEWS SERVICE
PRINCETON, NJ -- As they return from the Memorial Day recess, U.S. congressional leaders are set to discuss ratification of a free trade agreement (FTA) with Peru, an initiative that has been heavily promoted by Peruvian officials since it was signed by both countries in April 2006. A 2006 Gallup World Poll found that the Peruvian public is also generally positive about the potential of such an agreement.
Thirty-eight percent of Peruvians indicated they were at least somewhat familiar with the proposed United States-Peru FTA. Among that group, more than three in four (78%) said they felt their country would gain jobs under the agreement. In other countries, optimism levels were much lower. Among Ecuadorians, for instance, just 48% of those familiar with the FTA being discussed in their country said Ecuador would gain jobs under the agreement. Only in Chile, which has a relatively healthy economy, did residents' attitudes reflect the positivity found in Peru.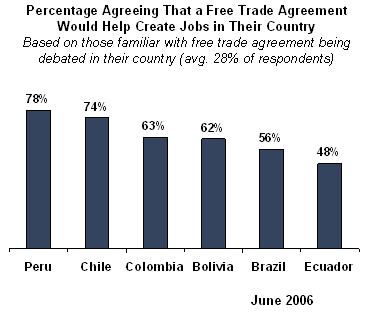 Certainly, Peruvians recognize the need for any stimulus to development. Just 20% told Gallup they were satisfied with current job creation efforts in their country. A similarly low percentage of Peruvians, 22%, said they were satisfied with their country's efforts to help the poor. Peru is among the four Latin American countries -- along with the Dominican Republic, Haiti, and Nicaragua -- in which residents were most likely to say they have gone hungry at times in the past year.
But while Peruvians are optimistic about a trade agreement with the United States, they do not appear as confident in their country's ability to take full advantage of the new opportunities such an agreement would generate. In fact, most view their country as an unfriendly environment for entrepreneurship. Almost 70% said obtaining a loan is not easy, and 76% said the same about completing business paperwork. Sixty-one percent said commercial rules change "all the time," and more than one-third (35%) said they had no confidence a business would do well under the current business climate.
Survey Methods
Results are based on face-to-face interviews conducted in June 2006 with 1,000 Peruvians, aged 15 and older. For results based on this sample, one can say with 95% confidence that the maximum margin of error attributable to sampling and other random effects is ±3 percentage points. In addition to sampling error, question wording and practical difficulties in conducting surveys can introduce error or bias into the findings of public opinion polls.