Most Venezuelans say citizens cannot feel safe making political comments in a public forum
GALLUP NEWS SERVICE
PRINCETON, NJ -- Venezuelan President Hugo Chavez's decision to replace a private television network critical of his government with a new state-funded station has drawn criticism from around the world. In Caracas itself, thousands of Venezuelans -- both protesters and government supporters -- took to the streets Sunday and Monday as the changeover took place. On Monday and Tuesday, Venezuelan police resorted to tear gas and plastic bullets to disperse anti-government demonstrators.
Public opinion data from Venezuela suggest the move to shut down RCTV, the country's oldest and most widely viewed private TV station, may be a risky one for Chavez. Survey results from shortly after Chavez's re-election last December indicated a strong level of support for his government. About 6 in 10 Venezuelans (61%) said they approved of the country's leadership, and a similar number (63%) said they were confident in Venezuela's national government. The percentage saying they had confidence in the quality and integrity of the country's media at that time was slightly lower, at 58%.
However, the RCTV incident -- followed by government threats against other independent stations -- may highlight a source of discontent. Just 40% of Venezuelans said they think residents can feel safe and respected when making political comments in a public forum; this is somewhat below the regional figure of 47% for all of Latin America. Fifteen percent of Venezuelans said that in the past year, they or a relative of theirs had been denied an opportunity to get ahead because of their political ideas; this is significantly higher than the 9% who said so across all of Latin America. These results may help explain why a poll by Datos Information Resources conducted in late March and early April found that 62% disagree with the decision to take RCTV off the air.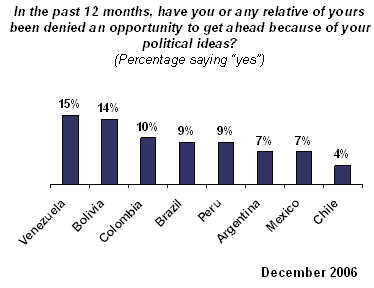 Survey Methods
Results are based on face-to-face interviews conducted in December 2006 with 1,000 Venezuelans aged 15 and older. For results based on this sample, one can say with 95% confidence that the maximum margin of error attributable to sampling and other random effects is ±3 percentage points. In addition to sampling error, question wording and practical difficulties in conducting surveys can introduce error or bias into the findings of public opinion polls.