Only one-third say integration with EU would be a good thing
GALLUP NEWS SERVICE
PRINCETON, NJ -- Croatia, the small, horseshoe-shaped country that split from Yugoslavia in 1991, thinks big. In 1992, the European Union (EU) established diplomatic relations with the newly independent nation, and in 2004, Croatia obtained official candidate status toward membership in the coveted EU club. Croatian officials currently hope the country will become a full member within the next five years.
Croatia has made some progress toward political and economic reforms, but much work remains. Zagreb's homework includes increasing efforts to fight corruption, strengthening economic and judiciary reforms, and increasing cooperation with the UN war crimes tribunal. With President Stjepan Mesic, the pro-European centrist who won re-election in 2005 with two-thirds of the vote, and Prime Minister Ivo Sanader, who has put EU membership at the top of his to-do list, Croatians can expect the EU "bus" to stay the course.
But results from a Gallup World Poll, conducted in February 2007, show Croatians are mixed on the issue of their country's plan to join the EU. When asked for their opinions on their country's potential membership, 34% of Croatians think it would be a good thing and 29% say it would be a bad thing. Furthermore, a significant minority (28%) think it would be neither good nor bad, and 9% of respondents don't offer an opinion.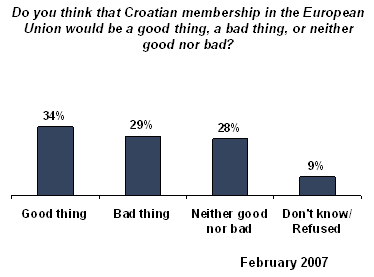 Highly educated Croatians are more likely than those with less education to support EU membership: 52% of those with at least some college education feel it would be a good thing, compared with 33% of those with a high school education only, and just 20% of those with grade school education or less.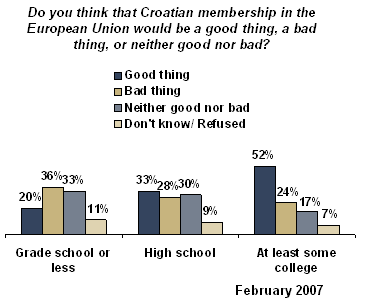 Ultimately, Croatians will decide whether their country will join the EU, most likely through a referendum. Just 35% of respondents tell Gallup they think the majority of Croatians would support EU membership, while 45% do not think the majority of people would support it. The implication is that public support for joining the EU can hardly be taken for granted.
Some Croatians have doubts as to what European integration means for them. The national government and other interested parties must assuage public fears that Croatia will not be able to preserve its identity and culture and clearly communicate integration's benefits for economic and social development. Recently, the European Commission delegation completed a public information campaign (EU Bus Croatia 2007) in eight Croatian towns to provide information about the EU and listen to citizens' feedback about the integration process. But these World Poll results suggest Zagreb needs to ramp up efforts to woo the general public to the EU cause.
Survey Methods
Results are based on face-to-face interviews with 1,000 adults in Croatia, aged 15 and older, conducted in February 2007. For results based on the total sample of national adults, one can say with 95% confidence that the maximum margin of sampling error is ±3 percentage points. In addition to sampling error, question wording and practical difficulties in conducting surveys can introduce error or bias into the findings of public opinion polls.