But close to half of both populations feel economic conditions are improving
GALLUP NEWS SERVICE
PRINCETON, NJ -- Economic growth in the Balkan region was relatively strong last year. The best performance came from tiny Montenegro, which just last spring became independent after a majority of voters opted out of the country's union with Serbia. In 2006, Montenegro's GDP grew by 6.5%, fueled mainly by the tourism, construction, and financial services sectors. Serbia posted 5.7% growth, thanks to increases in foreign investment and strength in the transportation, financial services, and commerce sectors. But in both countries, employment remains a major issue. Montenegro's official unemployment rate is almost 15% and Serbia's is 21.5%.
A Gallup World Poll conducted in February 2007 found residents of the two nations similarly dissatisfied with their standard of living -- just 43% of Montenegrins say they are satisfied, as do 39% of Serbs. The employment front receives even lower scores, particularly among Serbs. Only 27% of Montenegrins -- and 16% of Serbs -- say they are satisfied with efforts to increase the number and quality of jobs. When asked if it's a good time to find a job in their area, 20% of Montenegrins say yes, as do just 13% of Serbs.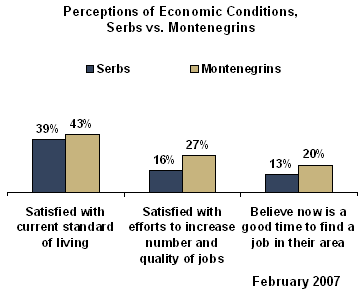 Serbs and Montenegrins alike think economic conditions in their respective countries are challenging, though almost half among both groups of respondents believe conditions are improving. Only 14% of Serbs think economic conditions in their country are good, compared with 19% of Montenegrins. However, 47% of Serbs think conditions are getting better, as do 49% of Montenegrins.
With such high levels of unemployment, it comes as no surprise that both Montenegrins and Serbs are dissatisfied with economic conditions in their countries. Despite strong economic growth last year, Montenegro and Serbia continue to face many challenges to reform their economies.
Survey Methods
Results are based on face-to-face interviews conducted in February 2007 with nationally representative samples of residents aged 15 and older in each country. For results based on the sample of 1,509 Serbs, one can say with 95% confidence that the maximum margin of sampling error is ±3 percentage points. For results based on the sample of 804 Montenegrins, one can say with 95% confidence that the maximum margin of sampling error is ±4 percentage points. In addition to sampling error, question wording and practical difficulties in conducting surveys can introduce error or bias into the findings of public opinion polls.