Democrats, Republicans now almost equally likely to disapprove of Congress
PRINCETON, NJ -- The honeymoon phase is over for the new Congress, as the public's ratings of Congress are down again this month. The latest congressional job approval rating (24%) is the lowest for the institution since Democrats took control of both houses in January, and is far below the 37% registered in February. The decline has been most evident among Democrats, whose ratings of Congress now match those of Republicans. Congressional job approval ratings are typically not positive, but ratings as low as the current one are uncommon. The poll also finds that only about one in four Americans say they are satisfied with the way things are going in this country, little changed since last month but still at its lowest point in over a decade.
Congressional Job Approval
According to the June 11-14, 2007, survey, 24% of Americans approve and 71% disapprove of the way Congress is handling its job. Congressional approval is down five points since last month and more than 10 points from the higher support levels in January and February following the Democratic takeover. The current 24% rating is similar to the poor ratings Congress received last year, with Americans essentially voting to take control of Congress away from the Republicans in November.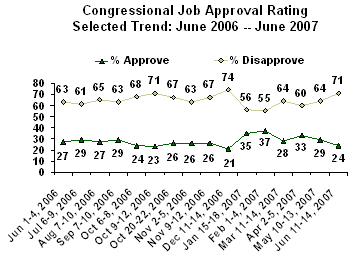 It is unusual for congressional job approval ratings to be at or below 24%. Congress has been rated this negatively only a few times in the four decades Gallup has measured this item -- in 1979, during the energy crisis; at several points during the "term limits era" of 1990 to 1994; and last year.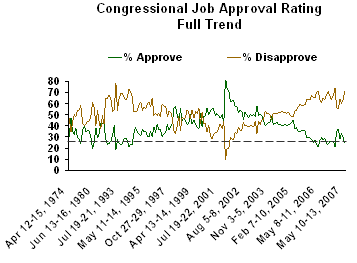 Republicans and Democrats vary little in their overall approval of Congress, with 29% of Democrats and 24% of Republicans saying they approve of the job Congress is doing. Independents' approval is at 19%.
Before the Democratic takeover earlier this year, congressional job approval ratings were much higher among Republicans than among independents or Democrats. After the Democrats assumed power, rank-and-file Democrats became more likely than independents or Republicans to approve of Congress. Democrats' ratings have gradually declined in the past few months, falling from 43% in April to 37% in May and to 29% this month. At the same time, Republicans' ratings have held fairly stable, in the mid-20% range. Independents' ratings have also declined over this period of time.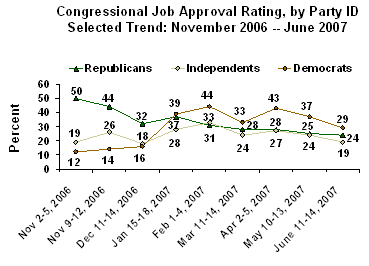 Mood of the Nation
It's likely that displeasure with Congress is part of a more general frustration with conditions in the United States that is also evident in ratings of George W. Bush and the economy. Overall, only 24% of Americans say they are satisfied with the way things are going in the country at the present time, while 74% are dissatisfied. Americans' satisfaction with the state of the nation shows little change since last month, but is still lower than at any other point this year. In fact, satisfaction has not been 24% since January 1996, and has not been below that mark since 1992. It has been below the 30% mark only six times since 1996.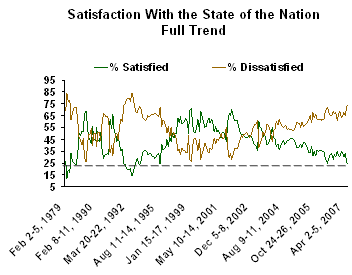 Republicans are more likely than Democrats or independents to say they are satisfied with the way things are going in the country at this time, a pattern tied to the fact that the sitting president is a Republican. Forty-six percent of Republicans say they are satisfied, compared with 21% of independents and only 11% of Democrats. Republicans have consistently expressed a higher level of satisfaction than independents or Democrats this year. But even Republicans' satisfaction has been lower in recent months, dropping below the 50% mark in each of the past four months.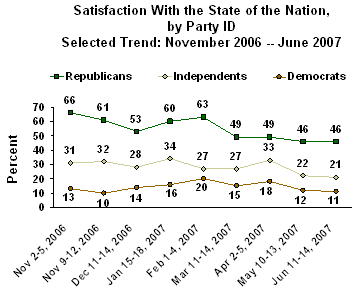 Survey Methods
Results are based on telephone interviews with 1,007 national adults, aged 18 and older, conducted June 11-14, 2007. For results based on the total sample of national adults, one can say with 95% confidence that the maximum margin of sampling error is ±3 percentage points. In addition to sampling error, question wording and practical difficulties in conducting surveys can introduce error or bias into the findings of public opinion polls.