Two-thirds agree that people from minority groups enrich their culture
GALLUP NEWS SERVICE
PRINCETON, NJ -- Britain's new Prime Minister Gordon Brown faced his first real test over the past week with the attempted bombings in London and Glasgow that are believed to be tied to al Qaeda. Police have made eight arrests and expect to make more. The bombings come on the heels of the recent sentencing in London of several Muslim men in connection with a plot to bomb the New York Stock Exchange. Brown has called terrorism "a serious and continuous threat," and is proposing to extend the period for which suspected terrorists may be detained for questioning without being charged.
But although many of those involved in alleged terrorism plots in the United Kingdom are Muslim extremists, UK officials have taken pains to distinguish them from the country's large Muslim population. London mayor Ken Livingstone said Britons should not "demonize" the country's Muslim population, saying they have played a "good and active role in creating a multicultural society." According to a Gallup poll conducted in late 2006 and early 2007, most UK residents agree: 75% said they didn't think people with different religious practices threatened their own way of life. Just over two-thirds of Britons, 68%, said people from minority groups enrich the cultural life of their country. Among Londoners only, the number in agreement was 78%.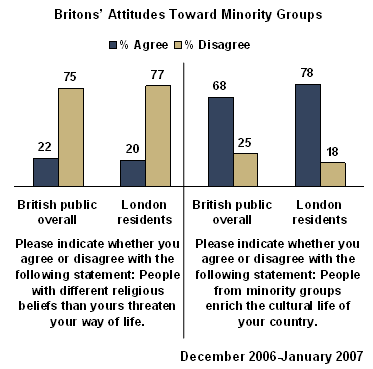 Analysts are hopeful that Brown's experience as a member of Tony Blair's cabinet will enable him to provide strong leadership in countering terrorist activity without raising anti-Muslim sentiment. "They've seen how [terrorism] can evolve in their own society and erupt," says Edward Gnehm, a professor at George Washington University's Elliot School of International Affairs, and a former ambassador in the Middle East.
Survey Methods
Results are based on telephone interviews with 1,204 British adults, aged 15 and older, conducted Dec. 18, 2006-Jan. 9, 2007. Results for London residents only are based on telephone interviews with 335 adults, aged 15 and older. For results based on the total sample of national adults, one can say with 95% confidence that the maximum margin of sampling error is ±3 percentage points. For results based on the London oversample, one can say with 95% confidence that the maximum margin of sampling error is ±6 percentage points. In addition to sampling error, question wording and practical difficulties in conducting surveys can introduce error or bias into the findings of public opinion polls.