2007 poll detects clear uptick in economic optimism
GALLUP NEWS SERVICE
PRINCETON, NJ -- A new report finds that Indonesia, the poor, multi-ethnic nation that is home to the world's largest Muslim population, has made progress toward greater stability in the last year. The 2007 Failed States Index -- an annual ranking by Foreign Policy magazine and the Fund for Peace -- put Indonesia among the top four countries in terms of substantial positive movement toward political and economic stability since 2006.
The Failed States Index compiles information on 12 social, economic, political, and military indicators, but does not make use of public opinion data. However, a comparison of Gallup Polls in August 2006 and April 2007 suggests a corresponding uptick in optimism among Indonesians. For example, when asked in 2006 to predict the country's status five years in the future using an 11-point scale, about 4 in 10 Indonesians (38%) chose one of the top 4 points. In the most recent survey, that proportion had risen to just over half (52%).
The last decade has not been an easy one for Indonesians, with a protracted recession brought on by the 1997 Asian financial crisis followed by the tsunami in December 2004. But there has also been cause for optimism toward the country's governance in recent years; in 2004 a president was democratically elected for the first time, and in 2005 the 30-year separatist conflict between the government and the Free Aceh Movement ended with a peace agreement. Private consumption and investments have been up in the last year, exports are strong, and the Jakarta Stock Exchange is trading at record highs.
Interestingly, Indonesians are no more likely to say they have confidence in their national government in 2007 than they were in 2006 -- in fact, 60% said they had confidence in 2006, somewhat more than the 52% recorded this year. It is the country's improving economic situation that is more likely to be driving any rise in positivity. In 2006, fewer than half of Indonesians (47%) said they were satisfied with their own standard of living; in 2007, that number was 59%. Asked in 2006 about the economic conditions of the country as a whole, barely one-quarter of Indonesians (24%) said they thought current conditions were good; in 2007, 36% said the same. Similarly, in 2006, 18% of Indonesians said they felt national economic conditions were improving; by 2007 that number had risen to 25%.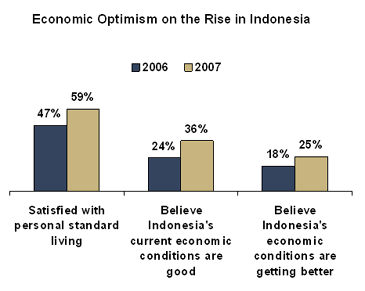 Survey Methods
Results are based on face-to-face interviews conducted in April 2007, with a randomly selected sample of 1,000 Indonesian residents, aged 15 and older. For results based on a sample of this size, one can say with 95% confidence that the maximum error attributable to sampling and other random effects is ±3 percentage points. In addition to sampling error, question wording and practical difficulties in conducting surveys can introduce error or bias into the findings of public opinion polls.