Three in Four Say Nigeria Is Better Off as One Country Than Two
GALLUP NEWS SERVICE
WASHINGTON, D.C. -- Most countries in Africa lack the scientific tools to gauge public opinion. Such a dearth of adequate information on the needs of African populations often hinders the formulation of evidence-based policies. Nigeria is a case in point. After its return to democracy in 1999, efforts to improve the country's governance were initiated. However, despite the fact that Nigeria is the most populous nation in Africa with 140 million residents, reliable data on the needs and perceptions of its people were unavailable until recently.
To address this knowledge gap, NOI Polls, a Nigerian opinion-polling firm, partnered with Gallup to conduct a major survey in Nigeria. In addition to core elements of the Gallup World Poll, which is conducted in more than 130 countries, the Nigeria poll focused on many issues specific to Nigeria such as political instability in the Niger Delta. The main purpose of the poll was to gather opinions on issues of importance to Nigerians to provide a voice to ordinary citizens and generate pertinent data to guide policy. Last month, in a speech at the Brookings Institution in Washington, D.C., Ngozi Okonjo-Iweala, Ph.D., who led the Nigeria poll project with Bob Tortora, Ph.D., of Gallup, said, "while opinion research or polling should not lead policy because many times we may have to do things that people do not like, it should certainly inform policy."
Preferred Form of Government
The survey's findings indicate strong support for democratic rule in Nigeria. When asked which form of government is best for the country, more than 8 in 10 respondents (82%) selected a democracy, while 8% chose a military government and 6% a religious system.
When looking at respondents' answers across age groups and geographical locations, some interesting variations emerge. Younger Nigerians are among the most likely to support democracy -- a promising sign for democratic rule in the country. Eighty-five percent of individuals ages 15 to 18, 81% of respondents ages 19 to 29, and 86% of individuals in the 30 to 45 age group said a democracy was the best form of government, compared with 79% of respondents aged 46 and older who said the same. Further, the most prevalent support for democratic governance was observed in the Niger Delta (91%), while the least prevalent was recorded in Lagos (72%). Fifteen percent of respondents in Lagos said military rule was the best form of government for the country and 11% said a religious government was best.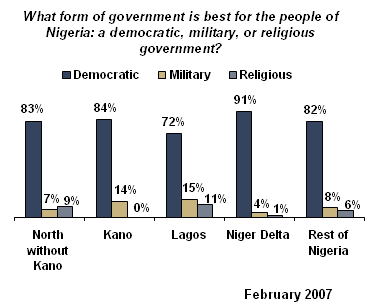 Unity vs. Separation
Given the tensions between Nigeria's predominantly Muslim north and Christian south, the poll also asked respondents about their opinions regarding the unity of the country. The results show that overall about three-quarters of respondents (74%) believe it is best for Nigeria to remain as one nation, while 20% said more than one nation. Again, there is a modest difference between younger and older Nigerians: 76% of those aged 15 to 18 and 77% of those aged 19 to 45 prefer Nigeria to remain one country, while 66% of those aged 46 and older say the same.
The geographical variations in respondents' answers to this question produced some interesting results. Just 51% of respondents in Kano prefer a united country, versus 89% of those in the remainder of the northern Nigeria (without Kano). It is important to point out that the Kano sample is small, and as a result, the margin of error is higher. Moreover, three-quarters of respondents in the Niger Delta also prefer a united Nigeria. Such findings suggest that separatist sentiments are relatively isolated in Kano, and provide little support for claims that Nigeria is a fragile country that could easily disintegrate along religious or ethnic lines.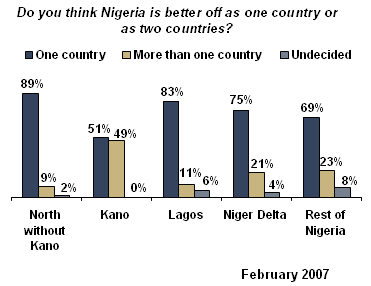 Survey Methods
Results are based on face-to-face interviews conducted in English, Yoruba, Ibo, and Hausa with 1,000 adults in February 2007, aged 15 and older. For results based on the total sample of national adults, one can say with 95% confidence that the maximum margin of sampling error is ±5 percentage points. In addition to sampling error, question wording and practical difficulties in conducting surveys can introduce error or bias into the findings of public opinion polls.