Percentage believing permanent peace will be achieved dropped between 2006 and 2007
GALLUP NEWS SERVICE
WASHINGTON, D.C. -- Ongoing violence in Sri Lanka appears to be dimming hopes for peace among the nation's citizens, according to this year's Gallup World Poll. When asked in May 2007 about their perceptions of the peace process, Sri Lankans expressed less confidence than they did a year earlier. Only half of the population said they felt that a lasting peace could be achieved, and the proportion of Sri Lankans who indicated they are strong supporters of the peace process fell from 65% in 2006 to 53% in 2007.
Violence in Sri Lanka escalated shortly after Gallup's 2006 survey. Several hundred people lost their lives in the ensuing 12 months, further diminishing prospects for an end to the ethnic conflict that has tormented the country for half a century. Although the Sri Lankan government and the Tamil Tigers (formally known as the Liberation Tigers of Tamil Eelam, or LTTE) signed an internationally mediated ceasefire in 2002, the agreement began to fall apart two years later when a Tiger commander split from the rebel group and led an offensive, taking back control of the eastern part of the country.
Gallup conducted the 2006 World Poll shortly after both the government and the LTTE endorsed the peace agreement during talks in Geneva, Switzerland. At that time, most Sri Lankans were hopeful about the peace process. Roughly 3 in 5 (62%) said they felt permanent peace would eventually be achieved, and 83% said they believed the government was committed to securing peace through talks.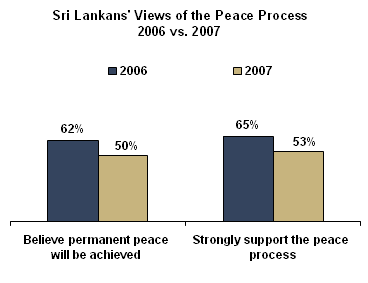 Despite this drop in optimism, Sri Lankans are no less likely to express a sense of personal security in 2007 than they were in 2006. The percentage of respondents who said they felt safe walking alone at night is marginally higher in 2007 (77%) than it was in 2006 (71%), and confidence in the country's military rose from 85% to 92% during that same period.
Survey Methods
Results are based on face-to-face interviews with a representative sample of 1,033 residents of Sri Lanka, aged 15 and older, conducted Feb. 16-March 15, 2006, and 1,000 residents of Sri Lanka, aged 15 and older, conducted May 2007.
Respondents were interviewed in 150 locations spread across both urban and rural areas of Sri Lanka. Households were selected at random, and respondents within households were chosen at random according to Kish tables. Interviews were conducted in Tamil and Sinhalese.
For results based on this sample, one can say with 95% confidence that the maximum margin of error attributable to sampling, weighting, and other random effects is ±3 percentage points. In addition to sampling error, question wording and practical difficulties in conducting surveys can introduce error or bias into the findings of public opinion polls.