Sixty-one percent of Americans rate the general favorably in new poll
GALLUP NEWS SERVICE
PRINCETON, NJ -- A new Gallup Poll suggests that last week's intense schedule of congressional testimony and media appearances by the commander of U.S. forces in Iraq, Gen. David Petraeus, enhanced his image among Americans. Not only did Petraeus' name identification increase significantly in a matter of just a week, but his image also became more favorable than it was just before the week's activities. This occurred in a contentious environment that included the publication of a full-page ad in the New York Times criticizing Petraeus, and much commentary on the truthfulness and accuracy of his testimony. The new poll also shows that Americans are not nearly as familiar with U.S. Ambassador to Iraq Ryan Crocker, who also testified before Congress.
According to the Sept. 14-16, 2007 poll, 61% of Americans have a favorable opinion of Petraeus, while 22% have an unfavorable opinion and 18% are not familiar enough with the general to rate him.
Gallup has asked Americans about Petraeus three times, beginning in early August of this year. Americans' ratings of Petraeus have consistently been more positive than negative in all three surveys. In early August, 47% of Americans rated Petraeus favorably, with 21% rating him unfavorably and 32% having no opinion. Petraeus' favorable rating edged up slightly, to 52%, in the final days before his congressional testimony on the situation in Iraq. Now, after last week, his post-testimony favorable rating has jumped to 61%. Petraeus' name identification -- the percentage of Americans who know enough about him to have an opinion -- also jumped from 69% in early September to 83% this past weekend.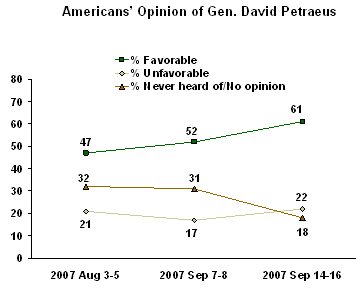 Republicans -- who as a group are solidly behind the war effort -- are much more likely than independents or Democrats to rate Petraeus favorably. Eighty-three percent of Republicans have a favorable opinion of him, compared with 59% of independents and just 43% of Democrats.
Ratings of Gen. David Petraeus by Party Affiliation

 

Republicans

Independents

Democrats

 

%

%

%

2007 Sep 14-16

 
 
 

Favorable

83

59

43

Unfavorable

5

25

33

No opinion

12

15

23

 
 
 
 

2007 Sep 7-8

 
 
 

Favorable

73

49

41

Unfavorable

6

20

22

No opinion

21

31

37

 
 
 
 

2007 Aug 3-5

 
 
 

Favorable

67

45

33

Unfavorable

7

24

31

No opinion

26

32

36
A majority of Republicans have maintained a positive opinion of Petraeus since August, but nonetheless, Republicans' ratings of Petraeus have improved over this time, increasing from 67% in August to 73% in early September to 83% in the latest poll.
Independents' ratings of Petraeus were fairly similar in August and early September, but after his testimony to Congress, his ratings became much more positive, with 59% rating him favorably and 25% unfavorably.
Democrats were equally likely to rate Petraeus favorably as unfavorably in August, with more than one in three saying they were not familiar with him at that time. Then, in early September, Democrats were almost twice as likely to have a favorable (41%) rather than unfavorable (22%) opinion of the general. Following his testimony last week, Petraeus' favorable rating among Democrats has remained unchanged, but more Democrats now rate him unfavorably.
Americans are, in general, much less familiar with Crocker, the U.S. Ambassador to Iraq. Crocker testified before Congress last week but generally garnered less media attention than Petraeus. Among those who do have an opinion of Crocker, opinions are more favorable than unfavorable -- 30% have a favorable opinion of Crocker, while 24% have an unfavorable opinion. Nearly half of Americans, 47%, say they do not know enough about Crocker to rate him.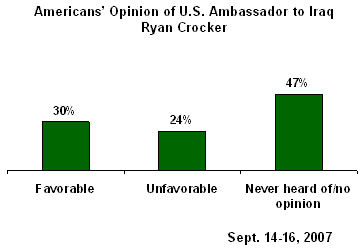 Republicans are also more likely to give Crocker a positive rating than are independents or Democrats, although more than 4 in 10 members of each party group do not offer an opinion of him at all. Forty-three percent of Republicans rate Crocker favorably, while 12% rate him unfavorably. Independents are slightly more likely to say they have a favorable (29%) rather than unfavorable (24%) opinion of Crocker. And, Democrats are more negative than positive, with just 19% rating him favorably and 35% rating him unfavorably.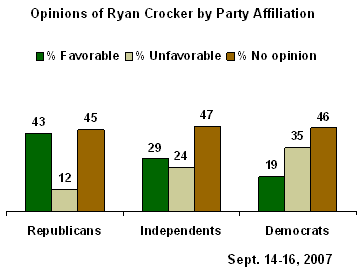 Survey Methods
Results are based on telephone interviews with 1,010 national adults, aged 18 and older, conducted Sept. 14-16, 2007. For results based on the total sample of national adults, one can say with 95% confidence that the margin of sampling error is ±3 percentage points.
In addition to sampling error, question wording and practical difficulties in conducting surveys can introduce error or bias into the findings of public opinion polls.