As Americans faced a new war, layoffs, business closings, and stress over personal finances this past fall and holiday season, reports from wedding retailers showed increased sales in merchandise during a time when business for this industry normally lags. And county clerks in and around New York City and military bases where recruitment was high saw an increase in marriage license applications.
The National Marriage ProjectTM, located at Rutgers, the State University of New Jersey and led by nationally prominent family experts Dr. David Popenoe and Dr. Barbara Dafoe Whitehead, reexamined the institution of marriage in America in early 2001, several months before Sept. 11. What they found at that time has been reinforced, in some ways, by the supposed surge of interest in marriage because of the terrorist attacks. Very rarely is marriage primarily an economic consideration for never-married young adults. In fact, 86% of young adults feel that it is extremely important to be economically "set" as individuals before marrying. And an overwhelming majority (94%) believe that a spouse should be a soul mate, first and foremost.
Gallup collected the data for the National Marriage Project study, interviewing 1,003 adults*, 20 to 29 years of age, from Jan. 29 through March 7, 2001. The results indicate that both men and women tend to think in individual terms about their financial lives. Eighty-one percent (81%) of women reported that it is more important to have a husband who can communicate about his deepest feelings than it is to have a husband who makes a good living. Men responded to a slightly different question, but also underplayed the importance of a wife's earning power: only 36% agreed with the statement that it is more important to have a wife who makes a good living than it is to have a wife who is a good homemaker.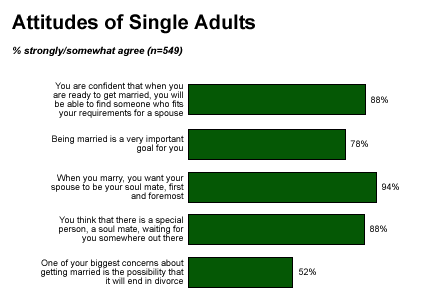 Emotional and spiritual connection rank far above the need for financial stability, and even the desire for children, in forming a romantic partnership. Over the past few decades, said Popenoe, "people have been coupling, but just not marrying." But as people seek comfort in uncertain times, the security of marriage may be more appealing to some.
The current "mini surge" brings to mind the marriage boom at the beginning of World War II. "The situation now, of course, is much different in that many more men, and women, for that matter, were mobilized during World War II, and felt the need to tie the knot for logistical as well as emotional reasons," said Popenoe. "With the exception to the surge of marriages on military bases, the impact that 9/11 has had on the public is more psychological than logistical."
Popenoe finds it likely that the events of Sept. 11 have had "some impact on the desire to build up one's emotional life." However, since the long-term marriage trend has been declining since the early 1970s, he feels that any real surge in marriage rates is probably temporary.
*The report and results cited in this story are from a survey conducted by The Gallup Organization on behalf of The National Marriage Project. The report presents the findings of a nationally representative telephone survey of 1,003 adults, 20 to 29 years of age, conducted from Jan. 29 through March 7, 2001. Results based on the entire sample have a margin of error of ±4 percentage points at the 95% confidence level.