Last week, I introduced the nine items that Gallup discovered best measure the spiritual commitment of individuals in congregations. (See "How to Measure Spiritual Commitment" in Related Items.) Four of the items are described as "attitudes" and five are defined as "behaviors." This week, I'll begin to explore each of the individual attitudinal items with a look at the statement, "My faith is involved in every aspect of my life."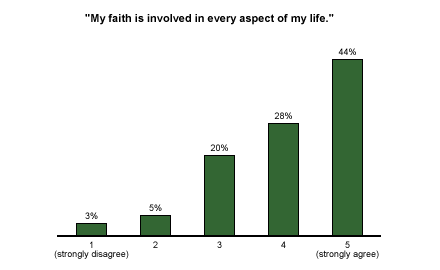 The graph shows responses to this question on a scale of 1 to 5, with 1 being "strongly agree" and 5 being "strongly disagree."
Gallup's latest research* indicates that individuals with a high level of spiritual commitment say that their faith is involved in every aspect of their lives. This means they rely on their faith to guide them in whatever they do. Their faith has a major impact upon whatever decisions they make in the course of the day. Their interaction with other people is largely influenced by their faith. Their faith permeates their entire being; they cannot conceive of an existence without a strong spiritual undergirding.
Congregational leaders looking for ways to promote this perspective should constantly and consistently relate their faith tradition to people's everyday lives. You can promote this in your congregation by showing that spiritual commitment makes a positive impact on even the most seemingly routine aspects of life. The more you communicate the relevance of your faith tradition as a guiding influence from day to day, the more apt your members will be to start consciously applying their faith in different aspects of their lives.
Next week: A closer look at the second item on the spiritual commitment scale, "Because of my faith, I have meaning and purpose in my life."
The SE25 items are protected by copyright of The Gallup Organization, Princeton, NJ, 2001. All rights reserved.
*Results are based on telephone interviews with 729 adult members of a church, synagogue, or other religious faith community, aged 18 and older, conducted October through November 2001. For results based on this sample, one can say with 95% confidence that the margin of sampling error is ±3.6%.